Team allegiances aside, what are your stand-out memories of the 2014-15 Premier League season? Southampton's rise after being taken apart piece by piece last summer? Harry Kane's emergence as England's most potent goal scorer? Phil Jones nutting the pitch in a valiant act of defending against Arsenal? It's a fairly short list, whichever way you look at it.
It is the final round of Premier League fixtures this weekend and no one outside of Hull and the north-east seems to care anymore. The only unfinished business worth keeping an eye on involves Hull City's desperate attempts to stay in the top flight at the expense of Newcastle United.
Liverpool, Tottenham Hotspur and Southampton are still entangled in a mini battle to secure Europa League qualification but two of those three clubs don't seem too bothered how it ends up, judging by recent performances. Should Arsenal beat Aston Villa in the FA Cup final at the end of the month it all becomes irrelevant, anyway.
In a way, the final day will act as a microcosm for the dreary 2014-15 campaign, but why has it been all so disenchanting this season?
Blue dominance
The cheek of Chelsea to have been so good at football this season is bang out of order, no? While the verve that Jose Mourinho's side attacked with in the first half of the season has evaporated, the margin with which they have won the league illustrates just how feeble the competition has been this term.
The inability of the chasing pack to find anything resembling the form of a title challenger has been the prevailing reason for the flat conclusion to this season. On 1 January, the gap between the Blues and second placed Manchester City was just two points. Three losses and three draws in a run of 11 games saw their challenge fall away, while Arsenal's awakening came about five months too late. We've known there was nothing worth getting excited over at the summit of the league for four months.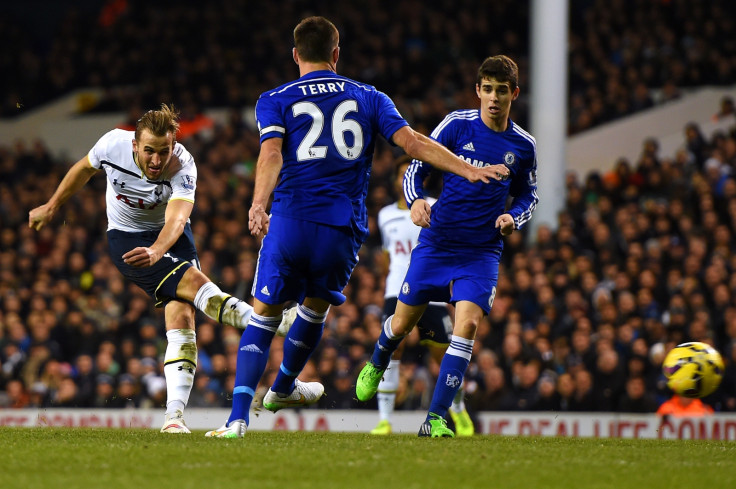 Lack of competition in games at the top of the division
Last season provided some truly excellent examples Premier League football among the league's elite: Liverpool 5-1 Arsenal; Chelsea 6-0 Arsenal; Manchester City 6-3 Arsenal (sorry Gunners); Manchester City 4-1 Manchester United; and the captivating 3-2 title showdown between Liverpool and City. All had plenty at stake and thoroughly delivered in entertainment.
The one-sided nature of the Premier League title race this term has had a knock on effect in big games. Chelsea have remained unbeaten against the top four without having to step out of Mourinho's pragmatic comfort zone. Only Tottenham's 5-3 win over the Blues (a largely inconsequential result now looking at the table) and United's redemptive 4-2 win over City are the stand out candidates when compared to last season.
An underwhelming race for Champions League football
At least there was a compelling race for Champions League qualification to fall back on, right? Manchester United's aim to reclaim their place in the top four seemed to be going smoothly as they pieced together an 11-game unbeaten run into January, but that was disrupted when they started being awful at football.
That allowed Liverpool to build some momentum through their own unbeaten run and close the gap on their neighbours until they too started being awful at football, sparked by their 2-1 defeat to their arch-rivals at Anfield.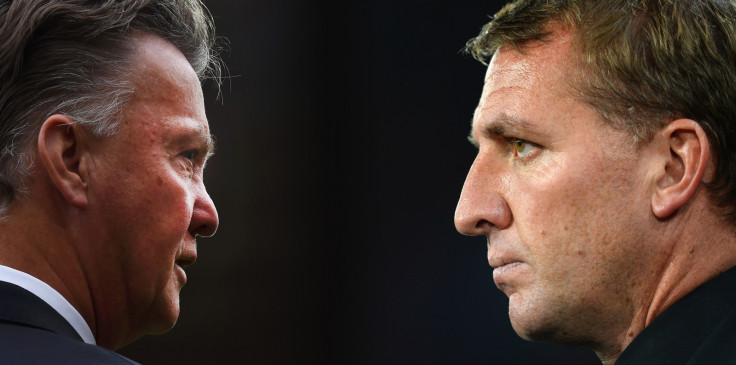 A dismal 0-0 draw at West Bromwich Albion in late-April denied the Reds' the chance to keep the heat on United, and it allowed Louis van Gaal's side to edge their way over the finishing line of a race lacking in real quality. There is only so much merit you can take from being the slightly less-worse side in a battle between two clubs, even less when you consider Arsenal clinched the same finishing spot last term on 79 points, seven more than United can finish with next week.
Has anything unexpected happened?
Chelsea to saunter their way to the league title? Check. Liverpool to struggle in the absence of Luis Suarez? Check. Manchester United to claw their way back into the Champions League after spending £150m in the transfer window? Check. Neil Warnock to lose his job? Check. The most underfunded team in the league to go down? Check.
Your predictions from last August, they are probably all there. Has there been one side who can justifiably claim the tag of 'Surprise package of the year?' Crystal Palace and Leicester City may lay claim to that, but elsewhere, it's all been a bit predictable.
Pointless pitch invasions
A pitch invasion used to be a treasured rarity exclusively reserved for a team surviving relegation on the last day of the season in the most unlikely circumstances. The sort of event that sees Kieran Richardson held aloft by the adoring public like some sort of demi-god and no one bats an eye lid.
But we have been so overexposed to the practice this term that it's just not fun anymore. Many of us watched on in confusion as the Queens Park Rangers faithful stormed the pitch on Saturday, despite having already been relegated at the first time of asking and facing potentially damming FFP sanctions. Why? It reminded me of the occasion when I miserably failed my AS exams in college with two E grades to my name and still embarked on a celebratory night out. Awful scenes on both counts.
Signs in the crowd
Usually associated with WWE events, the sight of homemade signs popping up around Premier League grounds is increasingly worrying. Like the selfie stick, there is just no room for them.
Earlier this month, Chelsea fans merrily greeted Steven Gerrard to Stamford Bridge a year on from his infamous slip with a constant rendition of their new favourite chant. You know, the one where he gave it to Demba Ba? Some went even further with carefully prepared signs with the aim of riling the Liverpool skipper.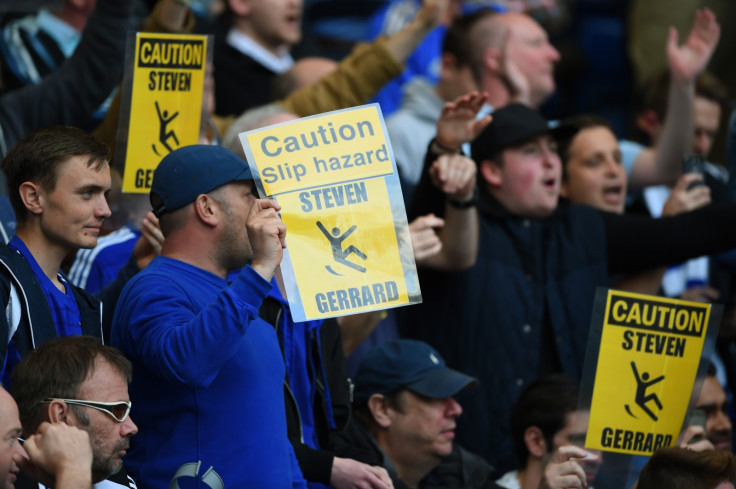 LOOK AT WHAT THEY HAVE DONE, THEY HAVE LAMINATED THEIR BANTER.
Lack of quality at the foot of the table the worst it has ever been
Sean Dyche and his Burnley troops will absolutely end the campaign with their reputations enhanced, but let's be honest, the lack of investment in the Clarets' squad made a return to the Championship inevitable. QPR's dismal form and penchant for mastering their own downfall made their relegation a certainty too, despite Chris Ramsey doing his very best to breathe life into the place.
The relegation battle was made interesting by Leicester's revival but this all means that some downright awful sides will stay in the top flight because the quality at the foot of the table isn't there. Newcastle United have taken 10 points from a possible 54 since the turn of the year.
It also seems somewhat bewildering that a side who broke records in the art of not scoring goals, not once but twice in the same season, are going to finish comfortably above the relegation zone. Yet, Aston Villa will do so.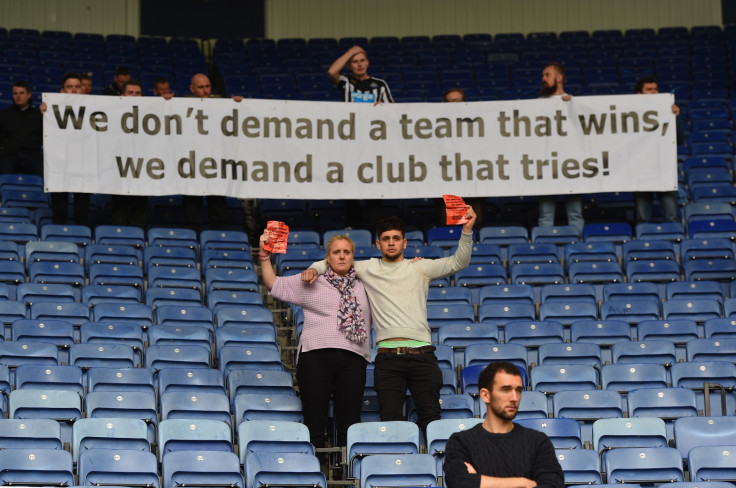 Dire referee decisions
Has there been a worse season for referees in the top flight? Complaining about decisions from the man in black is nothing new and with the advent of goal-line technology on these shores, there have been less things to whine about.
Without breaking off into another list, we recall Andre Marriner's decision to send off Sunderland Wes Brown instead of his notorious lookalike John O'Shea, and Martin Atkinson's to send off Nemanja Matic for his reaction to a potentially career threatening tackle from Ashley Barnes – who escaped without punishment - as incidents that rank among the chief offences.