PrivateSky for Outlook Offers One-Click, End-to-End Security
A one-click solution for sending encrypted messages and up to 5GB files through Oulook has been launched - called PrivateSky.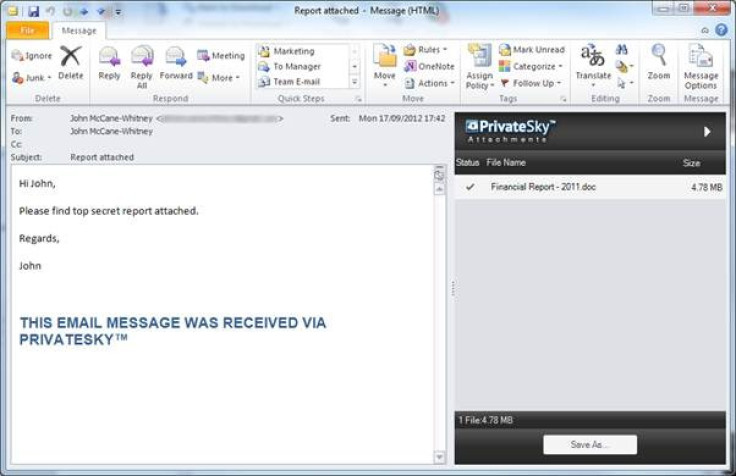 CertiVox, a web security company, has launched PrivateSky for Outlook, which it says it the "easiest end-to-end file encryption management system on the web," according to Brian Spector, the company's CEO.
Private Sky has been available as a browser-based service for some times, allowing people send encrypted messages using the in-browser encryption, but the company is today launching an Outlook plugin to allow those using Microsoft's email client to do end-to-end encryption with a single click.
Current methods available to send large encrypted files and messages are too intrusive according to Spector, disrupting the user's work.
The PrivateSky system will be aimed primarily at the business, corporate and government sectors, with Spector hoping it will be rolled out as standard within companies. One of the main attractions for companies will be the prevention of data leaks or hacks to or by rival companies.
The system, which IBTimes UK saw a preview of last week, works best when everyone on the system is signed up.
Having installed the software, the encryption takes place within Outlook before being sent to the recipient . In order to decrypt the message the recipient also need to be using PrivateSky. If the user is not already using it, they will get a message telling them they have a message from someone using PrivateSky and asking them to sign up for the service.
While it is free to download the plugin, in order to use one of its major features, you will need to pay a subscription. PrivateSky allows users to send encrypted files up to 5GB in size, but only if you are willing to pay £6.50 per user per month for PrivateSky Professional. However anyone can receive and decrypt these files, and don't need a Pro subscription.
When we asked Spector if a more ad-hoc payment system for personal use was a possibility, he said it was something the company was thinking about.
Infinitely more secure
The whole system is based on what Spector calls an "infinitely more secure" system than the username-password set-up. The system is based on two-factor authentication using a service SkyPin, which effectively creates an ATM in your browser.
A token - similar to a cookie - is placed in your browser of choice and along with a 4-digit PIN code creates what the company says is a system where even they cannot access the encrypted data.
"You can trust us with the data because there is no way we can actually get at it," Spector said.
Traditional online security is done by way of the username-password method which has been shown time and again to be flawed, especially when companies don't encrypt the passwords and choose instead to store them in plain text.
The new plugin will see all the encryption happen within Outlook. On the recipient side, they download the message and attachment, and decrypts them, again within Outlook - using the same elliptical curve cryptography which is used in the browser version.
Encryption and uploading is done at the same time to speed things up and while most SMTP servers will have a limit for sending messages and attachments, PrivateSky allows those using the Pro version to send encrypted files as big as 5GB.
© Copyright IBTimes 2023. All rights reserved.