'He is Probably the Best Player Arsenal Ever Had'
Robin Van Persie admits it is an honour to match Thierry Henry's goal scoring record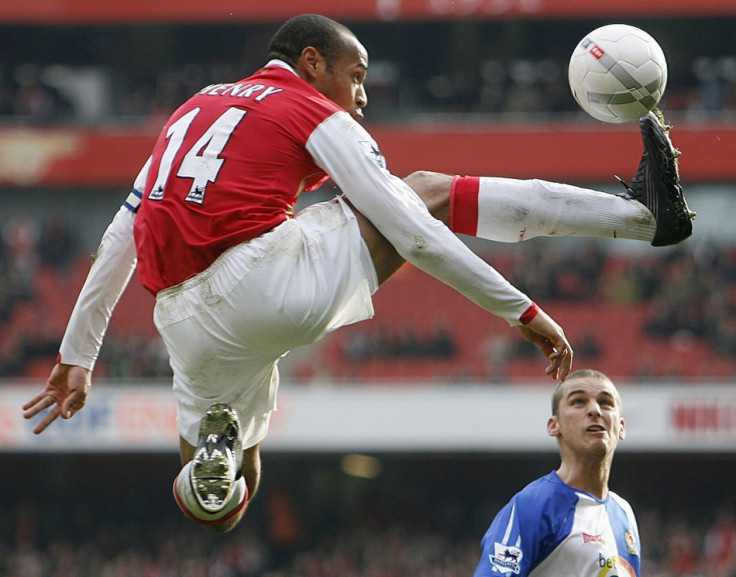 Robin Van Persie admits it would be a huge honour to surpass Thierry Henry's goal scoring record at the Emirates because he believes the Frenchman is "probably the best player" Arsenal have had in their rich history.
The Dutchman's goal at Villa Park on Wednesday took the Arsenal captain to 34 goals in a calendar year, level with Henry, and within touching distance of Alan Shearer's long-standing record of 36, set in 1995 for Blackburn Rovers.
Three more goals for the talismanic Arsenal striker will make him the most prolific forward in a 12-month period in Premier League history, and the Emirates star concedes he his hugely proud of his achievements thus far even though he believes Arsene Wenger's side's fortunes come before his own.
Arsenal have games against Wolverhampton Wanderers and Queens Park Rangers, both at the Emirates, and given Van Persie's remarkable prowess in front of goal in the last year, few would bet against the 28-year-old matching the aforementioned England and Newcastle United hero.
"I want to help my team," The Arsenal talisman told the club's official website. "I want to help with assists, with goals, with good football. It is not just scoring. In some games it means holding the ball up when we are struggling. Football can give you much more than scoring. For example, [against Aston Villa] I had a nice pass to Aaron [Ramsey]. I enjoy that as much as a goal.
Speaking about his goals tally, the Arsenal captain added: "I am on 34 now, like Thierry, and it is a big honour, because he is probably the best player Arsenal ever had.
"It makes me proud, but it is not my main target. That is to win games and help my team out."
The forward believes his form is as much down to his improved fitness. The player suggests he has played every Premier League game for Arsenal which has brought its own obvious rewards. Where previously a run in the side would be swiftly curtailed by injury, Van Persie believes he is finally benefiting from a clean bill of health.
"I have not missed one Premier League game, I played every single game, most of them for all 90 minutes. When you have a good run and you feel fit and fresh, you try things. You take more big risks here and there than, for example, when coming back from injury." The Arsenal star said.
"As a striker, the most important thing is to have a go. If you look at my performances, I take more risks now. I know with the team behind me I will always get more chances. It is not that I only get one chance in a game, I always get two, three or sometimes four." The patently content Arsenal captain and the club's most important player added. "That tells me I can take a risk here and there."
Van Persie has thrived under the added responsibility of the Arsenal captaincy having taken over the leadership duties after Cesc Fabregas left in the summer. The Holland international intimates the goals have evidently helped him settle in the role, but there is now a greater collective responsibility at the club, by a number of senior, albeit relatively new, Arsenal players.
"I have to give a lot of credit to Mikel [Arteta], Per [Mertesacker], Thomas Vermaelen and Yossi [Benayoun]," The Arsenal captain continued, "They are great characters. I need assistance and they are always helping me. I have experienced three other captains, great captains - Patrick Vieira, Thierry and Cesc Fàbregas - and I learned a lot from them."
© Copyright IBTimes 2023. All rights reserved.