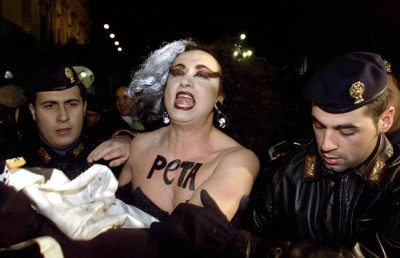 The annual La Scala opera and ballet season is poised to begin at Theatre La Scala in Milan.
This year's gala night features a performance of 'Don Giovanni', starring Anna Netrebko as Donna Anna.
It also includes the third year of an ambitious plan to stage Wagner's complete four-opera 'Ring' cycle by 2013, while new productions include 'Die Frau ohne Schatten', 'Peter Grimes', 'Luisa Miller', 'Manon', and 'Rigoletto'.
After Riccardo Muti's 19-year association with the Theatre, Daniel Barenboim took the baton as principal guest conductor in 2006.
As always, the opening season at La Scala is accompanied by demonstrations by animal rights organisations, unions and unemployed artists which stage colourful, flamboyant performances at the entrance of the Theatre.
Prominent socialite and anti-fur activists usually demonstrate bare-chested into the world-famous theatre, carrying banners proclaiming "No Fur".
In the 2000 season that marked the centenary of the death of Italian composer Giuseppe Verdi, Italian animal rights activists staged a protest wearing cow heads in front of the theatre.
Last year, protesters focused on Italy's cuts to the national culture budget and were joined by Director Barenboim. At least 10 police officers and an unknown number of demonstrators were taken to the hospital. The authorities used smoke bombs and teargas during the clash.
Before raising his baton, the Israeli conductor directed a short speech to Italy's President Giorgio Napolitano, who was in the audience, and said: "For that title, and also in the names of the colleagues who play, sing, dance and work, not only here but in all theatres, I am here to tell you we are deeply worried for the future of culture in the country and in Europe," The Gurdian reports.
Italian authorities are expecting three groups of protests during this year's gala night.