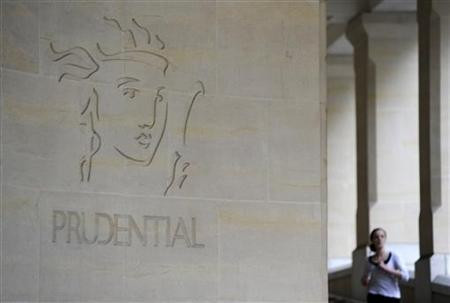 Shares in Prudential were up in morning trading on the FTSE 100 after the insurance giant reported a rise in operating and underlying profit in the first half of the year.
Operating profit was reported as rising 41 per cent in the half year period to £968 million, while underlying operating profit increased by 19 per cent.
The group said that it would be raising its half year dividend by five per cent to 6.61 pence per share.
Tidjane Thiam, Chief Executive of Prudential, said, "Prudential has delivered strong results during the first half of 2010 as we continued to allocate capital to the geographies and products with the best profitable growth prospects, in line with our strategy. We have been able to generate significant, profitable and capital efficient growth across the Group: our sales have increased by more than a quarter, the higher level of margin achieved in 2009 has been maintained during the first half and we have done this consuming broadly the same amount of capital as last year.
"Asia remains the region with the best potential for high and profitable growth, and despite our disappointment at not being able to further accelerate our strategy through the transaction with AIA, the prospects for future profitable organic growth remain excellent. In Asia, new business sales were £713 million, an increase of 36 per cent on the same period last year (2009: £524 million). This growth was broadly based, with all markets except Korea (where we have decided to limit our growth as part of our 'value over volume' discipline) recording double digit growth rates. IFRS operating profit was up 24 per cent to £262 million (2009: £212 million)."
He added, "We have significant opportunities for profitable growth and the financial strength to take advantage of those opportunities. We are cautious about the outlook for the western economies. However, our Asian business gives us a material and powerful presence in the most attractive markets in our industry, and one that will continue to underpin our growth.
"So we view the future with confidence. We expect the momentum that we have seen in our businesses during the first half to be sustained during the rest of the year. As we look further ahead, beyond the second half, we are well positioned to continue to deliver strong growth and generate strong returns for our shareholders, thanks to our operational focus and strong market positions."
Richard Hunter, Head of UK Equities at Hargreaves Lansdown Stockbrokers, commented, "Despite calls from some quarters for senior resignations following the failure of the AIA bid, the company has confounded its critics with a striking set of figures.
"Figures for operating profit and net income far exceeded expectations, whilst the cost of the AIA approach - although still expensive - is below initial estimates. Prudential's strategic focus on the Asian region remains intact, with the region continuing to deliver actual and potential growth. The company is less encouraged by the general economic outlook, although it remains confident that its current momentum can be maintained, as evidenced by a further 5% increase in the dividend.
"In all, the company can now consign the AIA approach to history, whilst its core business continues on a sound footing. Its geographical diversification, particularly in Asia, gives it a distinct advantage over certain rivals. The share price performance has been perhaps surprisingly resilient, having risen 20% over the last year as compared to a gain of 12% for the wider FTSE100. On balance, the current market consensus that the shares are a buy is unlikely to come under much immediate pressure."
By 08:30 shares in Prudential were up 1.78 per cent on the FTSE 100 to 572.00 pence per share.