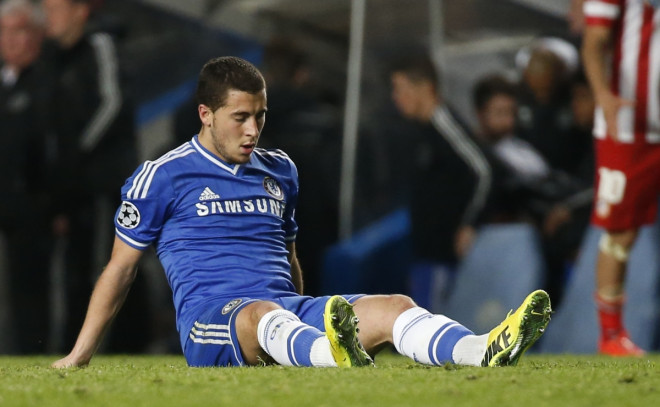 Chelsea midfielder Eden Hazard is being monitored by Barcelona, Paris Saint-Germain and Real Madrid for a move in the summer, according to Spanish newspaper Mundo Deportivo.
The midfielder was crowned the PFA Young Player of the Year for 2013/14 last week but his comments against manager Jose Mourinho after their loss to Atletico Madrid has earned him a lot of flak from the Portuguese man, signalling a potential end to his tenure at Stamford Bridge.
Hazard had expressed his displeasure at Chelsea's brand of football, stating that the club had set itself up to play on the counter against Atletico and were not inclined on playing football. Mourinho was not flattered by his comments and hit back at the Belgian after the game, accusing the player of not tracking back.
The report states that Hazard is willing to make the switch to a place where he can play his free-flowing brand of football and not inhibit his attacking instincts.
The Belgian has been the standout player for Chelsea this season, scoring 14 goals and assisting seven.
"[The] media was reporting he was being critical, but there was nothing critical in what he said. It's the same type of words he said in relation to the Belgium side a few weeks ago. There is nothing there," Mourinho said.
"Normally you get this kind of comment from players like him: from players who can't resolve a problem like we had with the first goal. Against Atletico in Madrid, Willian played on the left side and Ashley Cole was protected all game.
"Against Liverpool, [Andre] Schurrle played on the left and a dangerous player like Glen Johnson was completely under control. Eden is the kind of player who is not so mentally ready to look back at his left-back and live his life for him.
"If you see Atletico's first goal, you understand where the mistake was and why we conceded that goal.
"I just say the perfect team at the top level cannot make this kind of mistake. Normally, in this game, if you go to half-time winning 1-0, the game is another game. Atletico have to chase the game and we, with stability, have conditions for more," he added.