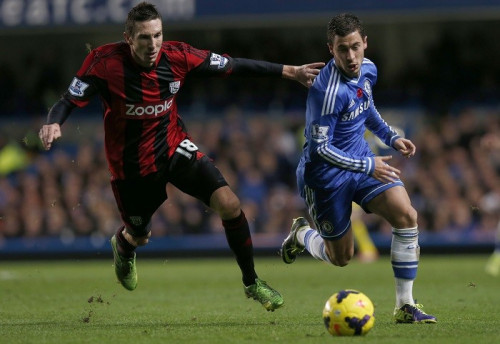 Paris Saint Germain president Nasser Al-Khelaifi has denied reports that he is planning an audacious bid to sign Chelsea star Eden Hazard next summer.
The 23-year-old playmaker has been earmarked as the next top target for the millionaire side which last summer spent £97m on transfers, including £56m striker Edinson Cavani, and recently agreed a £20m deal to sign Newcastle midfielder Yohan Cabaye.
Nevertheless, asked in an interview with French newspaper Le Parisien about their plans to strengthen the attack with the Chelsea star, Al-Khelaifi said: "Hazard is a fantastic player. In my opinion he is the best Chelsea player but we have never approached him."
"In 2012, before he move to England, we had the chance to sign him but we did not because he was in advance negotiations with Chelsea and we do not want to have bad relationship with other clubs," he added.
After an impressive debut campaign at Stamford Bridge, Hazard is enjoying a coming-of-age season this year under Jose Mourinho, having already scored nine goals and grabbing seven assists in just 22 Premier League games.
The Belgium international has already matched last year's Premier League goal tally and following an amazing five years at French side Lille before moving to London, PSG are reportedly interested in securing his return to the Ligue1.
However, Hazard also recently insisted that he is unlikely to move away as he is happy at Chelsea.
"For four years, during each transfer there are rumours I will go here and there. Paris has money, Paris is a great club. But I am at Chelsea, there is no chance of my leaving during this transfer market or during the next one, I think. I don't want to leave. To me, Chelsea is the best place to improve."