Paris Saint-Germain are ready to renew negotiations to sign Angel Di Maria in order to beat Manchester United in their pursuit of the Real Madrid star and close the deal before the end of the week, reports in France claim.
The Premier League giants were thought to be in pole position to sign the Argentinian international after PSG president Nasser al-Khelaïfi seemingly ruled out a move for the Argentine.
"We discussed Angel Di Maria with Real Madrid. He was very expensive and we have stopped discussions," al-Khelaïfi said.
However, French newspaper L'Equipe now claims that PSG have not given up in signing Di Maria - if anything they are closer to securing his services than ever – with the player keen on moving to Paris rather than United to play Champions League football.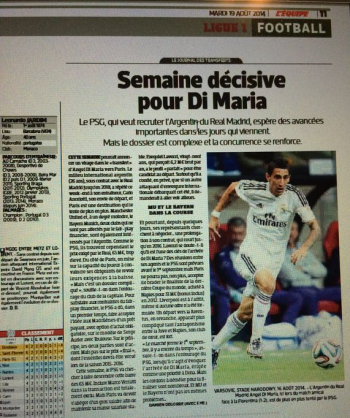 L'Equipe claims that with PSG unable to meet Real Madrid's €65m (£52m) demands right now due to Financial Fair Play, the clubs are now working on a loan deal before the move is made permanent next summer.
The French newspapers claims that both clubs already have an agreement in principle over the loan while just the final price of the sale is holding up the deal.
Furthermore, L'Equipe claims that PSG are even ready to part ways with Liverpool target Ezequiel Lavezzi to fund the move.
Should the reports be true, Di Maria's move to PSG will be a major blow for Louis van Gaal, who recently admitted United lacked a player of his calibre.
"We have five No nines and four No 10s – and we don't have any wingers to give us attacking width. Or, I should say, we don't have wingers of the highest level, like Ronaldo or Di Maria or somebody like that," van Gaal said.
Meanwhile, Real Madrid coach Carlo Ancelotti recently admitted the Argentinian could leave the European champions this summer.
"I don't know what Di Maria has decided. But I know that he's training and that he could help us in tomorrow's match. Until 31 August it will continue the same way and after that everything will be cleared up and things will return to normal."