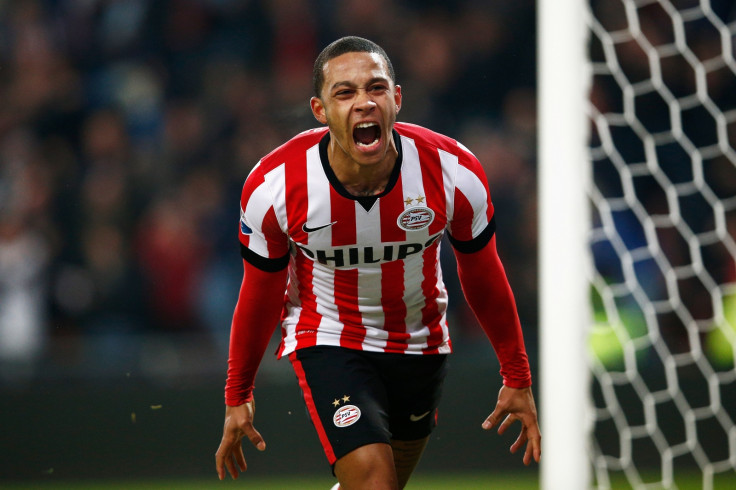 PSV Eindhoven sporting director Marcel Brands revealed Liverpool were keen on signing Memphis Depay.
The Dutch international will join Manchester United after both clubs reached an agreement earlier in May. The Merseyside club and Paris Saint-Germain were in the race to sign the Eredivisie's top scorer ahead of Louis van Gaal's side in April.
Liverpool manager Brendan Rodgers denied his side's interest in signing the 21-year-old in his pre-match press conference ahead of the Chelsea fixture.
"It was not something that we were interested in. He is a young, talented player but we already have four wingers at the club: Raheem Sterling, Jordon Ibe, Adam Lallana and Lazar Markovic," Rodgers said.
"We have other priorities we are looking at through the course of the summer but with the players we have in those positions, particularly on the left side, we are quite well stocked," Liverpool manager explained.
Brands earlier admitted that Depay rejected a chance to join Liverpool as he wanted to play under Louis van Gaal. PSV sporting director has rubbished Rodgers' suggestion after confirming to have held talks with the Anfield club's chief executive Ian Ayre.
"There was a lot of interest in him. Finally we spoke with three clubs and we made contact. They knew what we wanted and then it was up to the player to choose the club where he wanted to play," Brands said, as quoted by the Daily Mail.
"I didn't speak with Brendan Rodgers. I had contact with Ian Ayre. I know there were some problems with (Daniel) Sturridge, maybe that changed the decision. I don't know. I'm not in the club of Liverpool. I don't know what the policies are inside."
He also says that United moved very fast, which helped Depay to chose the 20-times English champions over PSG and Liverpool.
"But Man United were very fast and that changed the decision for Memphis. He made the final decision. He made his choice. We are happy with the transfer to Man United," the PSV sporting director concluded.