'Gangnam Style' star Psy has etched a new record with his latest music video 'Gentleman' by becoming the highest-viewed music video basedon single-day hits in YouTube's history.
The video, which has received more than 50 million hits as of now, notched around 20 million hits in its 24 hours of its release. Psy's new song 'Gentleman', his follow-up to the worldwide hit song 'Gangnam Style' was posted on YouTube at midnight on Sunday. Currently, the music video's viewership is rapidly moving towards its 52nd million hit.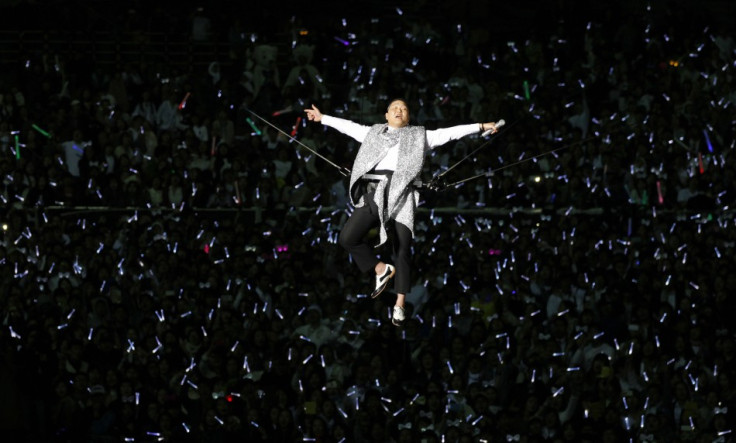 The video has gone on to garner 51 million hits in 40 hours which has excited the South Korean pop star as well. He tweeted: "51 million hits in 40 hours!! My God!!"
Psy has ostensibly stuck to his 'Gangnam Style' beats in his recently released song, with the pop star playing pranks on women, like pulling chairs while they are about to sit and untying a woman's bikini string in a pool side, till he meets his match. The video features the South Korean global sensation wandering in Seoul's diverse locales, ranging from the upscale shops to downscale surroundings.
However, the lyrics of the new song has nothing to do with the pranks played on women by Psy. Instead, he is trying to woo the women he is dating by proclaiming that he is a man of "courage, spirit and craziness".
(Courtesy: officialpsy, YouTube)
Psy, whose real name is Park Jae-sang, shot into international fame because of his quirky dancing in 'Gangnam Style', where he mocks the nouveau-riche residents of Gangnam district in Seoul. The music video exceeded one billion hits on YouTube, becoming the first and so far the only music video to cross that mark. He was subsequently called the King of YouTube for his achievement.
Psy performed his new single on Saturday (13 April) for the first time in front of 50,000 people in Seoul's World Cup stadium. In his press interview, he hoped his song could diffuse the tension between the North and South Korea by performing his song loud enough to be heard on the other side of the South Korean border.