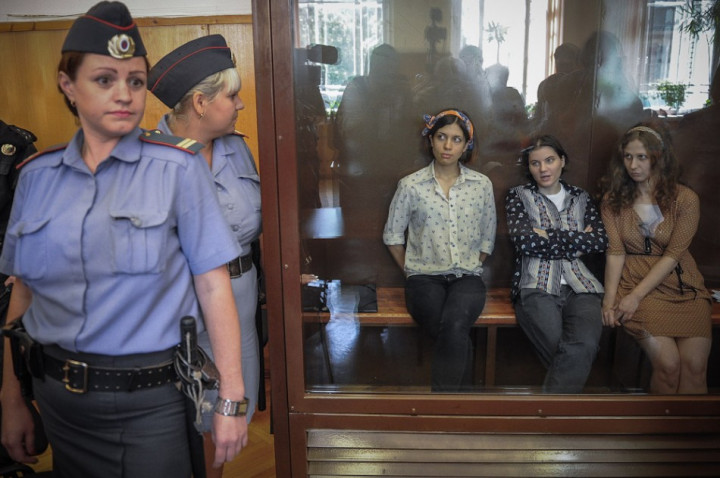 Russian president Vladimir Putin said that a Russian court should not judge the three members of the feminist punk band Pussy Riot too severely for a cathedral protest against him.
Putin's remarks raised defence lawyer's hopes that the three could escape the maximum seven years in prison if convicted of hooliganism motivated by religious hatred or hostility.
Putin criticised Nadezhda Tolokonnikova, Yekaterina Samutsevich and Maria Alyokhina for their "punk prayer" from the altar of Moscow's Christ the Saviour Cathedral but said he did not want to see them punished too harshly.
"There is nothing good in this," Putin told journalists at the end of a one-day trip to London where he met David Cameron and watched judo at the London 2012 Olympic Games. "I wouldn't really like to comment but if the girls were, let's say, in Israel, and insulted something in Israel ... it wouldn't be so easy for them to leave.
"[If they] desecrated some Muslim holy site, we wouldn't even have had time to detain them," he added.
"Nonetheless, I don't think they should be judged too severely for this. The final decision rests with the courts - I hope the court will deliver a correct, well-founded ruling."
Sceptical defence lawyers said in court that Putin's comment was "a gesture towards the West, towards the consumers of Russian energy resources and Putin's business partners".
"Given the significance of such signals, we can expect some softening of the prosecution's position," Mark Feygin, a lawyer for Pussy Riot, told the Guardian.
Townshend, Cocker, Kapranos and Marr
"On the one hand, Putin's statement is without doubt a manoeuvre for the international community, because he is clearly worried by the international reaction as it is out of his control. On the other hand, he is frantically trying to find an exit so as not to take responsibility."
Earlier, leading British rock musicians called on Putin to ensure a fair hearing for Pussy Riot.
The Times published a letter from the Who's Pete Townshend, Jarvis Cocker, Alex Kapranos of Franz Ferdinand, former Smiths guitarist Johnny Marr, Corinne Bailey Rae and Neil Tennant of the Pet Shop Boys urging a fair trial.