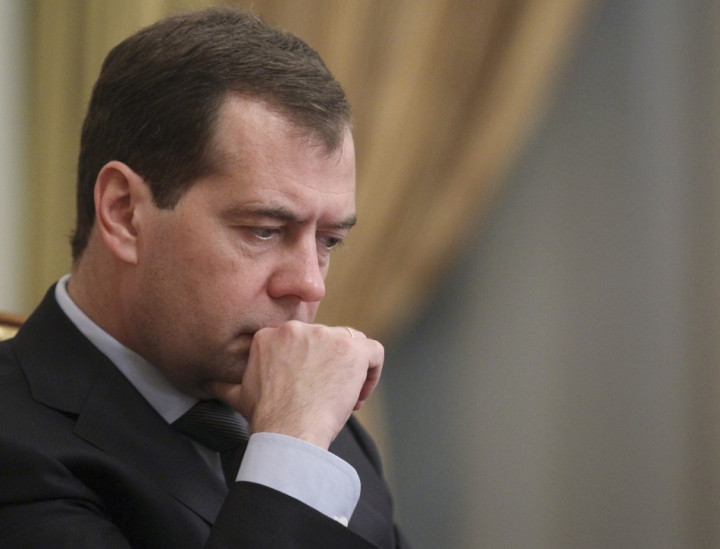 Russia's prime minister Dmitry Medvedev has voiced support for the three Pussy Riot members who were sentenced to two years in prison for performing an anti-Putin protest song in Moscow's Christ the Saviour Cathedral and says they should be freed.
"The prolongation of their incarceration in the conditions of jail seems to me to be unproductive," Medvedev said in televised remarks. "A suspended sentence, taking into account time they have already spent [in jail], would be entirely sufficient."
He maintained, however, that he was "sickened" by their actions in the cathedral.
Nadezhda Tolokonnikova, 23, Maria Alekhina, 24, and Yekaterina Samutsevich, 29, were convicted in August of hooliganism motivated by religious hatred for staging a "punk prayer" in Moscow's main cathedral.
Lawyer Nikolai Polozov, who was a member of the women's defence team, said he hoped the appeals court would consider Medvedev's suggestion.
"As a lawyer, Medvedev knows the administrative and criminal codes well enough to realise that there is no crime in this case," Polozov told Interfax news agency.
"If the Moscow city court takes a legal position that is similar to Medvedev's it will mean certain success in this case and we will be able to pull them out of the detention centre at last."
Medvedev's remarks came as the self-exiled Russian magnate Boris Berezovsky denied allegations that he funded Pussy Riot.
"I don't have anything to do with Pussy Riot and I didn't discuss any project with them," Berezovsky told the Moscow-based Ekho Moskvy radio station in response to state television rumours that he bankrolled the band.
"But if I had thought up such a project, I would have been very proud."
Berezovsky was a Kremlin insider under the rule of President Boris Yeltsin. He fled Russia after Putin came to power.