Pussy Riot Speak Out for First Time about Sochi Whipping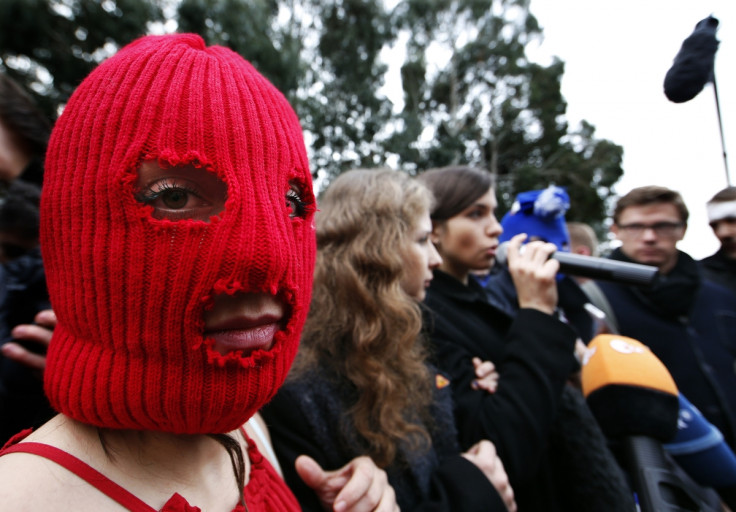 Pussy Riot have spoken for the first time about their beating and detention at the hands of Russian police during the Sochi Winter Olympics, in an exclusive interview with Newsweek.
The protest punk-rock band were detained by Russian "anti-extremism" officers and ordered to accompany them to a police station as witnesses in a theft.
The females were then put in to the back of a van, despite no identification being shown by officers, where they were led to a police station and beaten by officials.
"Never before have officials treated me as violently as in Sochi," Nadezhda Tolokonnikova, of the group, told Newsweek.
"They threw me to the floor face down, bruising my hands and knees," continued Tolokonnikova.
Both Tolokonnikova, 24, and her partner Maria Alyokhina, 25, were only released from Russian prison in December after two years but were adamant that they would attend Sochi to stir a reaction.
"Our new song is devoted to our friends, Russia's political prisoners. Sochi is the best place to shout out our protests as the entire world is here," shouted Tolokonnikova as the group prepared to perform.
Then Cossack militiamen attacked the group with whips as they were about to perform their new song in downtown Sochi.
Russian President Vladimir Putin's aide Sergei Markov attempted to spinning the Cossack attack to reflect positively on the Putin regime.
"It's useless to cover it. If it were not for Putin's gentle democratic rule, the Cossacks would have torn the Pussy Riot girls into little pieces. It's only Putin's sense of discipline that is saving their lives," said Markov.
Tolokonnikova said she believes the real reason for the detention was linked to their plan to perform and record a music video for a new Pussy Riot song, entitled Putin Will Teach You To Love The Motherland.
One of the group's close friends, Taisia Krughovykh, travelled with the group in Sochi and was dragged out of a McDonalds by Russian police and detained.
"Today they beat us; tomorrow they will shoot at us," she told Newsweek.
Activist Semen Simonov was also detained but smiled when asked the authorities' reasons for their detention.
"It [the stolen purse story] was the only excuse the authorities had to keep Pussy Riot behind the bars for as long as possible, so the world would not hear how powerful their performances are," he said.
Tolokonnikova is pleased that their arrest "spoiled all his (Putin's) efforts to impress the West" and showed the world the "true ugly face of totalitarian Russia".
Watch the video for Putin Will Teach You To Love The Motherland below.
© Copyright IBTimes 2023. All rights reserved.