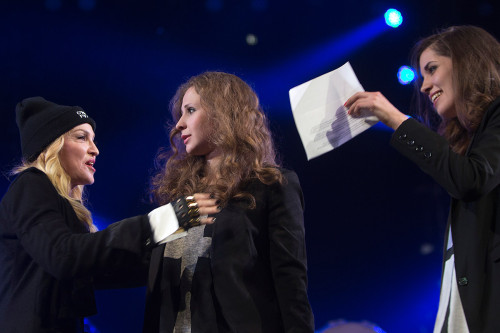 Members of the Russian punk group Pussy Riot have lashed out at jailed bandmates who appeared at an Amnesty International concert with pop star Madonna.
Nadezhda Tolokonnikova and Maria Alyokhina, who were freed from penal colonies in December in a surprising amnesty by Vladimir Putin, were introduced by Madonna to an ecstatic crowd in New York.
Dressed in tunics with crucifixes adorned on the front, the pair, who were imprisoned for staging a "punk prayer" in Moscow Christ the Saviour Cathedral, chanted: "Russia will be free!".
But what was meant to be a glorious celebration of Pussy Riot sparked controversy in the punk band. A letter, signed by six members of the group and posted on the Pussy Riot blog, said that selling concert tickets "is highly contradictory to the principles of Pussy Riot".
"We're a female separatist collective," it said. "We never accept money for our performances, and we only stage illegal performances in unexpected public places."
The six 'rebels' also criticised posters for the concert that showed a male guitarist in their trademark balaclava dress.
"They have said in every interview that they have quit the group and no longer represent Pussy Riot," said the letter. "But all of their appearances are announced as appearances by Pussy Riot."
"They are no longer Pussy Riot," said the rebuke signed by Cat, Garadzha, Fara, Shayba, Serafima and Shumakher.
"We have lost two friends, two ideological teammates, but the world has gained two brave rights activists," they said.
Wednesday's concert in Brooklyn saw performances by The Flaming Lips and Blondie. Ticket prices started at $27 (£16).