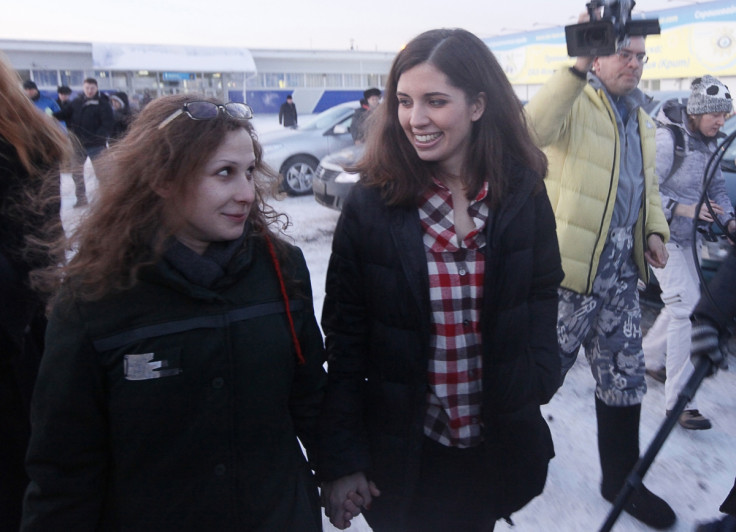 Two members of Russian punk band Pussy Riot have reunited in the Siberian city of Krasnoyarsk after being freed from jail, and announced plans to set up a human rights organisation.
Nadezhda Tolokonnikova and Maria Alekhina walked free after spending nearly two years behind bars thanks to an amnesty granted by the Kremlin.
Alekhina, who was released first, joined Tolokonnikova at Krasnoyarsk's Yemelyanovo airport, after the latter was freed from a local prison hospital.
Walking hand in hand, the pair told reporters they intend to continue campaigning for human rights through a joint project.
"We would like to discuss the goals, tasks and structure of our project," Tolokonnikova told Euronews. "We want to outline them together and in detail. We both have some ideas about it and would like to transform them into a joint project."
"We did not remain indifferent to the situation of women in jail, to the fact that they are seen as malleable putty," Alekhina said. "We want to change that."
Tolokonnikova and Alyokhina were serving a two-year sentence for the so-called punk prayer protest against President Vladmimir Putin in Moscow's Cathedral of Christ the Saviour.
They were jailed along with Yekaterina Samutsevich, who was released on a suspended sentence in October 2012.
The two were due for release in March but the Russian parliament pardoned them as part of sweeping amnesty measures.
Tolokonnikova and Alyokhina said the amnesty, which saw the release of thousands of inmates including Kremlin critic and Russian oligarch Mikhail Khodorkovsky, was a publicity stunt by the Kremlin ahead of the Sochi Winter Olympics. Tolokonnikova has also called for a boycott of the Games.