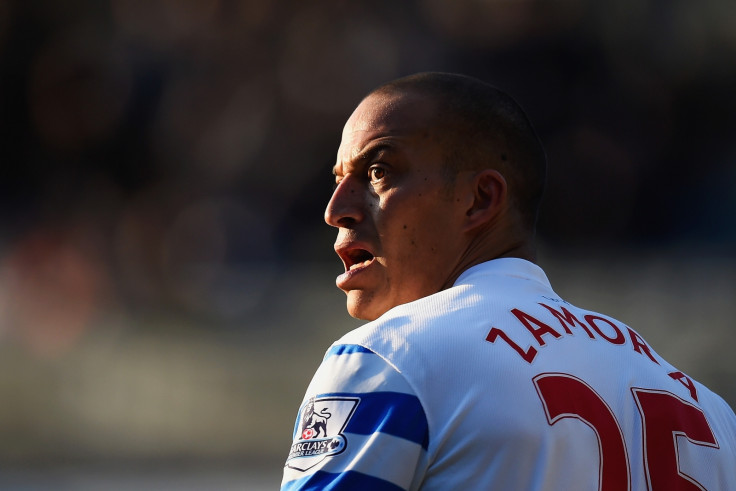 Queens Park Rangers are expected to be without striker Bobby Zamora for the Premier League trip to Liverpool on 2 May.
The 34-year-old has made 29 league appearances this season, scoring three goals, and played the full 90 minutes in the goalless draw with West Ham United.
But a combination of injuries is set to rule Zamora out of contention to face Liverpool, with Leroy Fer and Rio Ferdinand both in line to feature having not played since February and March respectively.
"Bobby is struggling which is a big blow for us but we're hoping we can get a last minute decision on that," manager Chris Ramsey explained. "I am glad to say most of the players that played on the weekend are fit enough to be involved against Liverpool.
"I think [Zamora] at the moment we're 60-40. He has had a lot of injuries over the course of his career and sometimes you get to a stage in your career where they start catching up with you.
"But you wouldn't know that based on the fact that he has shown a lot of grit and determination in the way he has worked towards the cause of keeping us up.
"Bobby has had a long-term injury that he has been playing with and I am very pleased he has got himself out there to try and help us.
"[He] has a bad hip but he's got a bad few things and he's a man who had taken a lot of bumps and bruises so it could be anything from ankle to hip to shoulder.
"Whatever happens he always comes back and plays so I am sure he will feature before the end of the season.
"We would love to have him fit but the good news is Leroy is fit and he's in contention for a start. Whatever happens I can see both players featuring at some point during that game.
"Rio is training but off and on at the moment. He's had injuries which have not cleared up to the point where he could go out and do himself justice. At the moment fingers crossed he will be in the squad at the weekend as long as he is fit he will be considered."
Defeat at Anfield could see QPR fall seven points from safety heading into their final three games of the season but they travel to a Liverpool side whose hopes of qualifying for the Champions League have been derailed by three defeats in their last five league games.
Ramsey is targeting two wins and a draw from Rangers' final four games and says the nature of the Premier League means his team remain in contention to survive despite their dire situation in the bottom three.
"One of the great things about the Premier League is there are no easy games," he said. "It's different to most leagues around the world; any team can beat any other at any given time.
"We know that Liverpool have the quality and the resilience to bounce back; they have been written off two or three times this season and Brendan has done a fantastic job in bringing them back to the levels that warrant a team of their stature.
"We believe we can beat anyone on our day and we hope our day will be at the weekend."