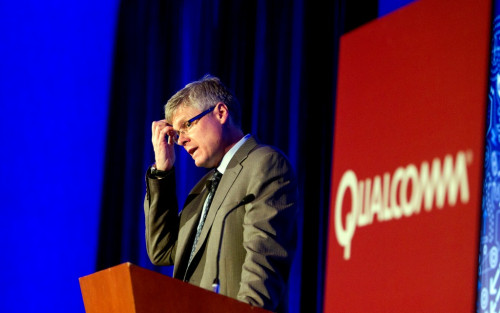 Qualcomm, the world's biggest maker of cellphone chips, could be hit with a fine exceeding $1bn (£603m, €731m) for potential violation of an anti-monopoly law in China, the world's largest mobile phone market.
The National Development and Reform Commission (NDRC), China's top economic planning body that regulates prices, initiated an investigation into Qualcomm last year and is at present holding talks with the American firm.
Qualcomm has maintained that it is unaware of any antitrust violations and that the NDRC has not revealed the reason behind the probe.
Under the anti-monopoly law, the NDRC can impose fines of between 1% and 10% of a company's revenues for the preceding year. Qualcomm raked in $12.3bn in China for its fiscal year ended 29 September 2013, or about half of its global sales.
Lawyers say the fine could be very high if Qualcomm fails to make concessions in its negotiations with the NDRC.
"It is, in some ways, a game of chicken," said Yee Wah Chin, a New York-based antitrust expert at law firm Ingram, Yuzek, Gainen, Carroll and Bertolotti.
"While the [fine] money may be very attractive to the NDRC, they would also be happy if Qualcomm were to make all sorts of commitments regarding its technology and the licensing of the technology," Chin told Reuters.
"They [NDRC] keep as much discretion for the decision maker as possible," said Peter Wang, a China-based antitrust expert with law firm Jones Day. "Technically it would appear they can't go below 1%, though they have other ways to reduce the fines based on cooperation."
"We intend to continue cooperating fully with the NDRC," said Qualcomm spokeswoman Christine Trimble.
4G Bonanza
Qualcomm expects additional royalty revenue when Chinese telecom firms, including the nation's largest cellphone carrier China Mobile, upgrade to high-speed networks in 2014 using Qualcomm technology.
Analysts say China's antitrust investigation could be an attempt to influence royalty negotiations with Qualcomm, ahead of the expected rollout of 4G wireless infrastructure by China Mobile.
Shipments of 4G enabled smartphones, many of which will us Qualcomm technology, are expected to jump some 30% to exceed half a billion units in Greater China in 2015, according to analyst data, as against the 385 million units shipped in 2013.
Analysts also say the probe could be Beijing's way of supporting domestic competitors.
Earlier in 2013, organisations linked to the Chinese government invested about $3bn to acquire local mobile chipmakers Spreadtrum Communications and RDA Microelectronics.
NDRC Scrutiny
In 2013, the NDRC began probing US firm InterDigital to examine antitrust complaints by Huawei Technologies over technologies for wireless devices and networks.
In 2011, the regulator imposed a $300,000 fine on Unilever for infringement of the pricing law.
In 2009, South Korea's Fair Trade Commission fined Qualcomm 273bn won ($252m) for exploiting its dominant position in CDMA modem chips that were later used in handsets made by Samsung and LG Electronics.