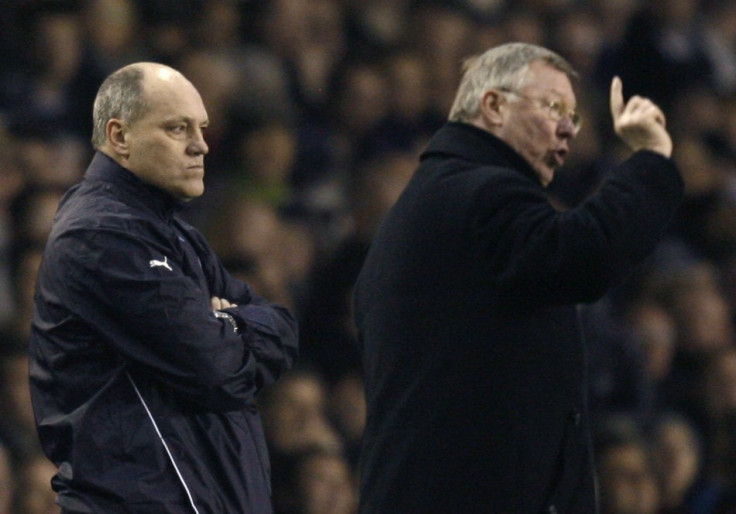 Manchester United manager Sir Alex Ferguson has revealed he approached Martin Jol about the vacant assistant's post when Carlos Queiroz left the club in 2003.
Ferguson and Jol face each other in the Premier League on Wednesday night, when Manchester United travel to Fulham in the hope they can maintain the pace on leaders Manchester City.
Ahead of the game, the aforementioned Manchester United manager revealed his lasting admiration for the current Craven Cottage chief.
Ferguson suggests he held talks about the then vacant post at Manchester United but ultimately Queiroz's absence from Old Trafford was only a fleeting one, and he returned less than a year after his initial departure.
"I knew Martin and actually spoke to him when Carlos Queiroz left the club." The Manchester United manager told Sky Sports News
"I spoke to him about joining us as assistant manager. Whilst I was talking with him, I had a phone-call from Carlos and realised he wasn't happy at Real Madrid, so I made moves to bring him back at the end of that season.
Although Jol missed out on the opportunity to work under British football's most decorated manager at Manchester United, the affable Dutchman has since gone on to forge a successful career in his own right.
Ferguson believes Jol, who enjoyed managerial stints at Tottenham, Hamburg, Ajax and now Fulham aomgst others, has a terrific record and his experiences will inevitably help him when the 55-year-old faces Manchester United this evening.
"It was unfortunate for Martin, but it never stopped his career progressing. I think he's a terrific manager and his record is good. He's had great experience gathered at Hamburg and Ajax.'" The Manchester United manager concluded.