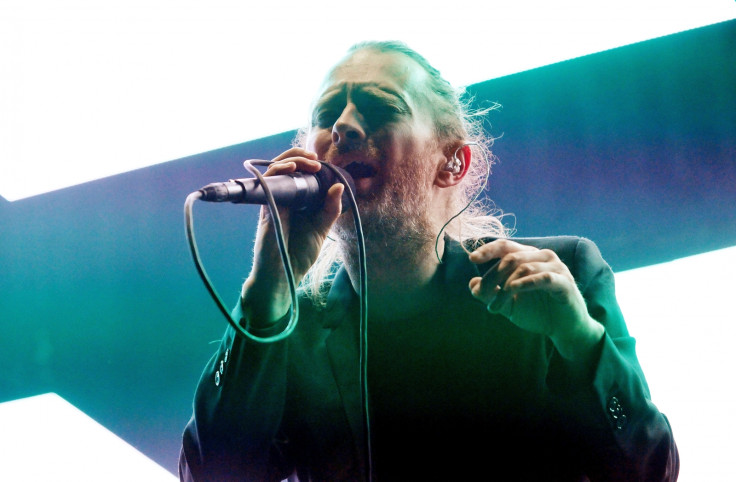 Glastonbury 2017 have announced their first headline act with English rockers Radiohead set to grace the Pyramid Stage. Frontman Thom Yorke and co will play the Somerset Festival on Friday 23 June, confirming weeks of speculation they would return to Worthy Farm.
Festival organisers revealed the news on 20 October by sharing a photo of the band's angry bear logo as a painted crop circle on the music event's site. Radiohead are yet to release a statement regarding the news but confirmed their performance by retweeting Glastonbury's crop circle photo.
There have been some mixed reactions to the festival's choice of headliner but Radiohead fans are nonetheless pleased. One enthused: "Great to see a truly great band headline #Glastonbury again. Go on there, Radiohead," while another said: "There won't be a bigger or more important cultural event in 2017 than Radiohead headlining Glastonbury."
Another fan suggested: "SO EXCITED that @radiohead are headlining Glastonbury," and another weighed in: "I think #radiohead at #glastonbury will be really fun and lively and i'm really excited about possibly seeing them again." Applauding the festival on the move, one other said: "Radiohead a good choice for Glastonbury."
However, not everyone is impressed with the first headline act as one critiqued: "God Radiohead playing Glastonbury, I can't imagine a worst band at the worst festival," while another agreed, writing: "Radiohead headlining Glasto Friday... Catch me nowhere near the Pyramid Friday." One other critic tweeted: "Not very excited by Radiohead as the headliner but that's what great about Glastonbury, so many other things to see!"
Radiohead had been rumoured to headline the festival for several weeks due to website eFestivals correctly predicting that they would take a main slot. The publication also claims to have "well-sourced information" that the Stone Roses and Daft Punk will fill the next two places on the Pyramid Stage. Radiohead are familiar with Glastonbury having headlined in both 1997 and 2003.
Glastonbury 2017 will take place between 21 and 25 June.