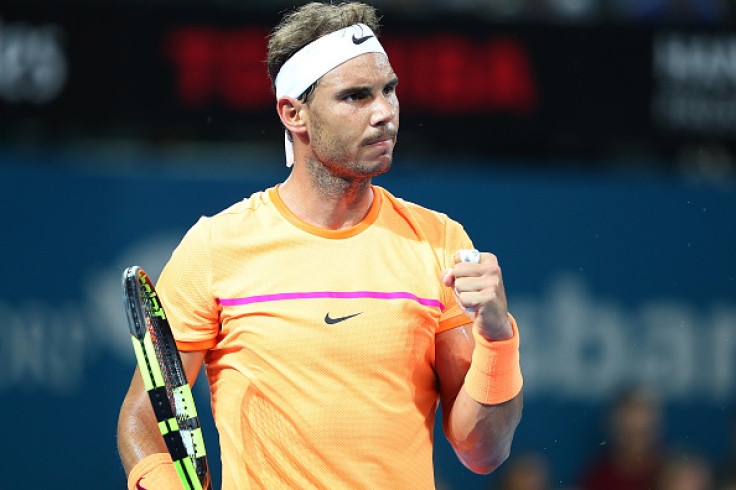 Rafael Nadal admitted that he is struggling with "jet lag" after making his comeback on the ATP Tour at the Brisbane International in Australia. The Spaniard was playing on tour for the first time since cutting short his 2016 season in October due to a wrist injury and beat Alexandr Dolgopolov in the first round.
The 14-time Grand Slam champion defended his title at the Mubadala World Tennis Championships, which was held between 29 and 31 December 2016, and admitted that the time difference was causing him problems. Nadal is hoping for his second round game against Mischa Zverev to be scheduled later in the day rather than in the morning session.
The 30-year-old world number nine has made it clear that the thought of retirement has not crossed his mind, but confirmed that he will be involved in tennis when he calls time on his career. Nadal recently opened a tennis academy in his home town of Manacor in Spain and revealed that he will focus on it once he hangs up his racket, which is unlikely to happen anytime soon.
"In terms of the jet lag, helps for me this week if I play later. Will I play next match in the day session? I don't know. Depends how I adapt to the jet lag, because playing early – for example, today, at 2:00 in the afternoon I was on the bed. I was destroyed. I'm not sure if it's better play earlier or not. I think for the moment I think it's better for me to play later," Nadal said after his win over Dolgopolov, as quoted by tennisworldusa.org
"The court is not as slow, but the ball, yes, was slow tonight. But great conditions to play tonight, no? Not very warm. That's great. Great crowd out there. Yeah, I enjoyed -- it's a beautiful court, beautiful court with great crowd. So always is a great experience.
"I don't know for how long I will play, 1-2-3-4-5-6 years, I don't know. The only thing I know is that I am working to be competitive again. Then after my career I will be busy with the foundation and academy," he added.