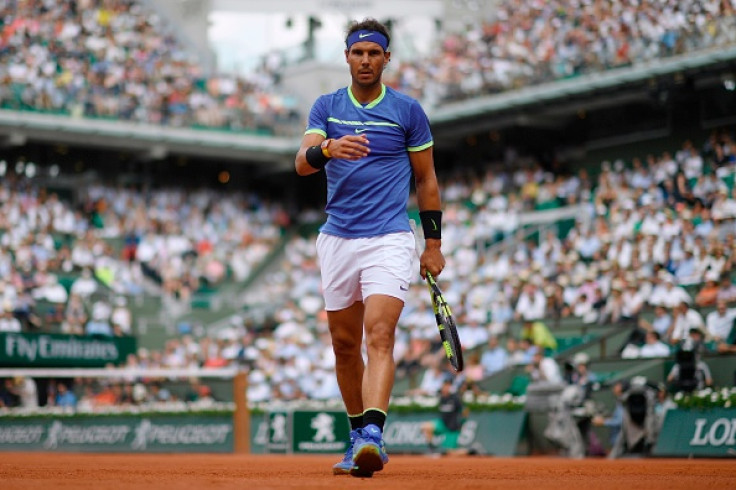 Rafael Nadal has dismissed any talks about the wrist injury that ended his French Open campaign in 2016 suggesting that it could bring 'bad luck' to his current campaign.
The Spaniard withdrew in the third round last year due to the injury, which plagued him throughout the rest of the campaign. Despite returning to play in the Olympics and the US Open, the world number four ended his season pre-maturely in October.
Nadal has since made a successful return from injury and won three titles in 2017. He revealed that he has no bad feeling at the moment and is looking forward to playing the entire French Open without any injury problems.
"Better we don't talk about these kind of things. We don't need to bring bad luck on these kind of things (smiling). No, no, no, thank goodness, I don't feel anything on the wrist since long time ago," Nadal said as quoted by Tennis World USA. "So treatment went well, and I didn't have any bad feeling since the beginning of the season of the wrist. That's good news."
Nadal has played more matches this season than most of the top four players, having entered 10 tournaments including the French Open. He has made six finals thus far and made it clear that he is aware of the possibility of overloading his schedule.
The 18-time men's singles Grand Slam champion admits that he is unlikely to miss the clay court swing of the season as it is his favourite surface, but feels that he could struggle when the grass court events begin following the second Grand Slam of the season.
"I am fine. I don't know what's going on later, no? It's obvious that I cannot miss the clay court tournaments. I am not doing incredibly tight calendar. But it's true that I played already six finals. When you play six finals and some other good tournaments, then you are playing a lot of matches. That's all.
"But I am a tennis player at the end of the day. Tennis players play tennis (smiling). So I do what I believe is good for my tennis career. Is good for my happiness. And then we'll see what's going on for my body. But that's it. Always grass is a little bit tougher for me than this," the Spaniard added.
Nadal is currently two wins into his quest of claiming a 10th French Open title and will face Georgian tennis player Nikoloz Basilashvili in the third round.