Rafael Nadal's fitness has been a major topic of discussion in recent days after the Spaniard decided to pull out of the ongoing ATP World Tour Finals in London due to issues with his knee.
The 31-year-old's participation was in doubt leading up to the tournament after he pulled out of the Paris Masters just over a week before the ATP World Tour Finals with a knee injury. But the 16-time men's singles Grand Slam champion remained adamant that he will take the court as he was keen to win the season-ending championship for the first time in his career.
Nadal lost his first round-robin ATP Finals clash to David Goffin and, in the latter stages of the match, it was clear that he was struggling with his knee. The world number one announced his decision to withdraw immediately after the game, with compatriot Pablo Carreno Busta taking his place.
It is not the first time that the Spaniard has ended the season early due to injury. It happened most recently in 2016 when he struggled with a wrist injury.
Nadal's knee has given him trouble in the past and he has now revealed that there are very few days when he does not feel pain in his legs.
"Most of the time, thanks to anti-inflammatories!" Nadal said about his knee injury troubles, as quoted by the Express. "No, seriously, it's something you have to learn to live with. It's hard, but at the same time it's part of our daily life...
When asked if there are days when he feels no pain, he said, "Hmm... Yes, there are, but the truth is that it doesn't happen often."
The 10-time French Open champion also made it clear that he was not forced to participate in the season-ending tournament in London. Nadal's doctor had recommended that he skip the event, but he was keen to play, partly owing to his desire to add a first ATP Finals crown to his 16 Grand Slams, 30 Masters Series titles and two Olympic Gold medals.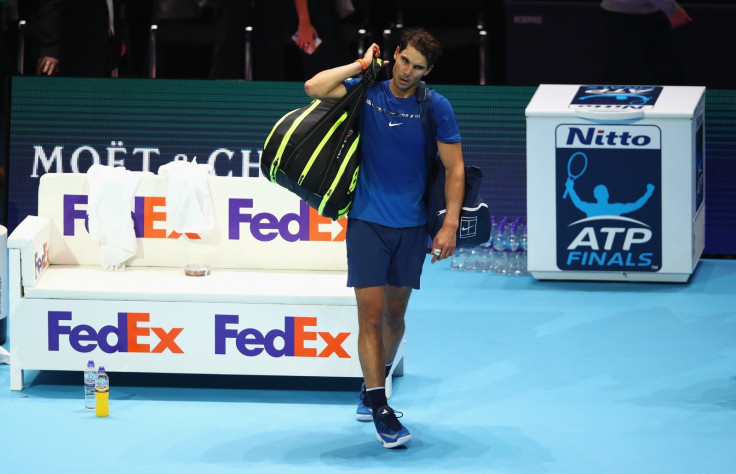 "Nobody put a gun to my head to come and play," Nadal said about his decision to participate in the ATP Finals in London.
"I do what I personally feel inside and not because someone forced me to do this," he explained. "A week ago, it was on the table to put an end to the season, and part of my team wanted that. It was my decision to be here.
"Sometimes things go well and sometimes they don't. You have to accept both with a good attitude."