Rafinha Alcantara admits uncertain Barcelona future amid links with Arsenal in Hector Bellerin saga
Liverpool and Juventus have also been linked with his services in recent times.
Barcelona star Rafinha Alcantara has refused to rule out a summer move away from the Nou Camp following reports claiming he could join Arsenal in a part exchange deal for Hector Bellerin.
The 24-year-old was enjoying an impressive 2016-2017 campaign under Luis Enrique until he suffered a serious knee injury in April. The Brazilian scored seven goals and provided five assists in 28 appearances for Barcelona, establishing himself as a regular in the starting line-up thanks to his versatility and ability to adapt to different roles.
However, Rafinha's future has been thrown into question following the arrival of Ernesto Valverde as Luis Enrique was his biggest supporter at the Nou Camp – having previously coached him at Celta Vigo.
In March, Mundo Deportivo reported that Liverpool, Arsenal and Juventus were all monitoing his situation ahead of making a potential move in the summer if Barcelona decide to put him up for sale.
Last week, Marca fuelled the saga after claiming the Brazilian could make a move to the Emirates Stadium as part of a swap deal which would see Bellerin moving in the opposite direction to Barcelona.
The Spanish publication claimed that Rafinha was keen on making the move to Arsenal in order to increase his chances of representing Brazil at the 2018 World Cup in Russia
The report added that Barcelona value Rafinha at around €30m (£26.4m, $34.2m) and would also be ready to cash in on him in order to reduce the fee needed for a top priority signing for Valverde such as the Arsenal right-back.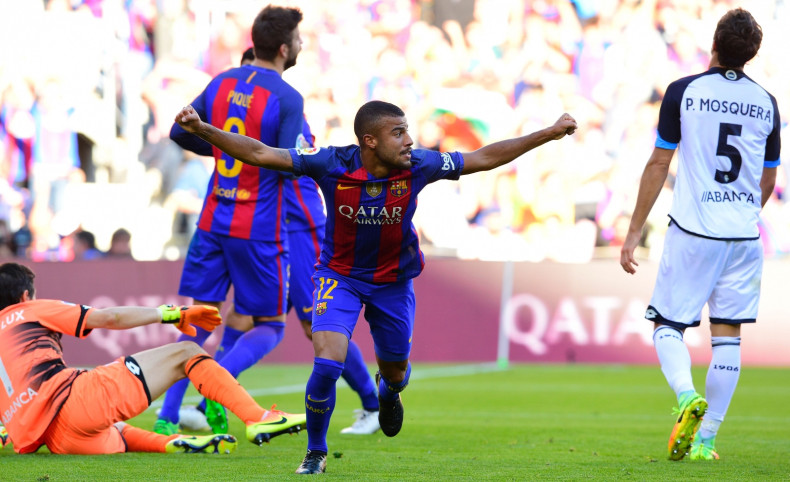 Rafinha has now failed to dismiss that speculation during an interview with Marca themselves, admitting that his future remains up in the air.
"My future is open and only God knows what will happen," he said. "I am a Barcelona player and the most important thing now is to recover from my knee injury and then you will see what happens. All I can say is that everything is open."
Rafinha's brother Thiago Alcantara was also attending the interview as it took place at a summer camp organised by both stars in Spain. The current Barcelona star could use the experience of his brother to help make his final decision over his future, after Thiago left Barcelona for Bayern Munich in the summer of 2013.
"My departure from Barcelona was a very difficult decision because after many years I had the dream of being a player for this club," Thiago explained. "But then it was more prized to be in a first-team than in the second. You cannot live thinking if this happened or that happened. I do not look back. I value it, but I moved on. And I think that was a correct decision. I went to a great club with the best coach of the moment."