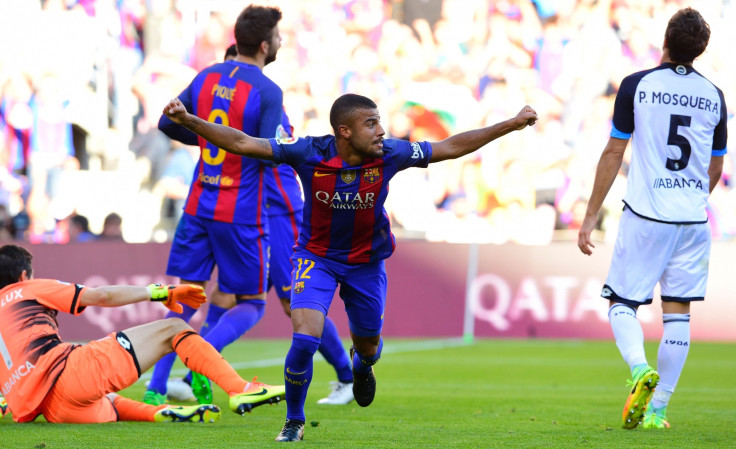 Barcelona star Rafinha Alcantara is reportedly keen on joining Arsenal in a part exchange deal for Hector Bellerin. Marca claims that the Spanish right-back's return to the Nou Camp could be "a little bit closer than it seemed a few days ago" thanks to the Brazilian midfielder's decision to leave the La Liga giants.
Rafinha, 24, is currently on the treatment table after undergoing a knee operation in April. The versatile midfielder had previously played an important role for the Catalans during the 2016-2017 campaign, scoring seven goals and providing five assists in 28 appearances.
However, his future at Barcelona has been under scrutiny since Luis Enrique announced his decision to leave the Nou Camp as the former manager had been his biggest supporter at the Nou Camp – having previously coached him at Celta Vigo.
In March, Mundo Deportivo reported that Liverpool, Arsenal and Juventus were closely tracking his situation ahead of making a potential move in the summer if he becomes available.
Marca now reiterates that the Brazilian midfielder is likely to leave during the summer transfer window in order to increase his chances of playing in the 2018 World Cup in Russia.
And the Spanish publication believes that Arsenal could be his next destination as part of a swap deal which would see Bellerin moving in the opposite direction to Barcelona.
Marca had previously claimed that Bellerin's move to Barcelona was difficult but they are now suggesting that "several factors" now suggest that a swap deal could happen.
Rafinha, according to the Spanish publication, believes that his style would fit well at Arsenal and Arsene Wenger would also welcome him at the Emirates Stadium.
Meanwhile, Barcelona are also reportedly ready to sacrifice the Brazilian midfielder if it helps facilitate the arrival of Ernesto Valverde's top target Bellerin at the Nou Camp.
In this sense, Barcelona reportedly value Rafinha at around €30m (£26.2m, $33.6m) so his inclusion in the negotiations should considerably reduce the fee for Bellerin.
Barcelona are yet to make a major signing this summer but last week the club announced an agreement to make Marlon Santos' loan move from Fluminense permanent, making him Valverde's first addition since being appointed as Luis Enrique's successor.