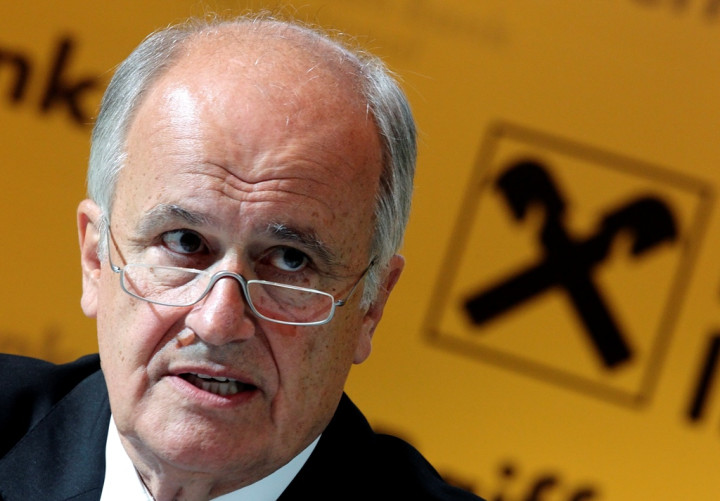 Shares in Raiffeisen Bank International, the second-largest bank operating in eastern Europe after UniCredit, tanked after the lender warned that rising bad-loan provisions from the region will result in its first annual loss in 2014.
Raiffeisen stock was trading 10.55% lower to €17.68 at 0219 CEST in Vienna, after plunging about 13% which is the stock's steepest decline in almost three years.
Chief executive Karl Sevelda said the Austrian lender had pegged the loss at between €50m ($64m, £39m) to €500m.
The range cannot be narrowed owing to a number of uncertainties, including developments in Ukraine and Hungary, Sevelda added, reports said.
The Vienna-based lender, in a statement on 22 September, said that its bad loan provisions for 2014 will increase to between €1.5bn and €1.7bn.
The bank said it could take a further €60m writedown on the value of Raiffeisen Bank Aval, its Ukrainian operation.
In addition, the firm said Hungarian legislation compelling banks to give back loan fees determined as unfair will cost it €240m, up from an earlier estimate of €160m.
Berenberg analysts said in a note to clients: "We remain cautious on Raiffeisen due to over-reliance on Russia (circa 50% of profits) and political tensions in the region."
In August, the bank forecast bad-loan provisions of between €1.3bn and €1.4bn.
Sanctions imposed on Russia threaten Raiffeisen's income from the nation.
The EU and the US slapped economic sanctions on Russia after it annexed Crimea from its neighbour in March. Since then, fighting in eastern Ukraine has prompted the allies to impose increasingly severe sanctions on Moscow, accusing Russia of sending weapons and fighters.