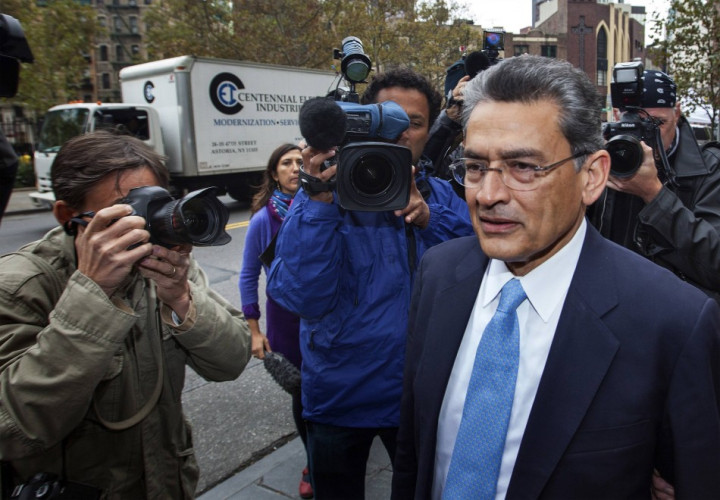 Former Goldman Sachs director Rajat Gupta, who was earlier found guilty of insider trading by a Manhattan court, has been sentenced to two years in jail.
Gupta, 63, was also ordered to pay $5m (£3m) by US District Judge Jed Rakoff who described his crimes of insider trading as "disgusting" and "a terrible breach of trust" when Goldman Sachs was in turmoil at the height of the 2008 financial crisis.
The sentence is widely considered to be lenient, given US prosecutors had been seeking a jail term of between eight and 10 years. Gupta's lawyers requested probation and community service in Rwanda.
Gupta's sentence is due to begin on 8 January, 2013 at a facility decided by the US Bureau of Prisons. His lawyers have requested a minimum security prison at Otisville, New York.
The judge described Gupta's crimes of leaking corporate secrets as "the functional equivalent of stabbing Goldman in the back".
He was accused of leaking boardroom secrets to his friend, Galleon hedge fund manager Raj Rajaratnam, including information on a crucial $5bn investment by Warren Buffett's Berkshire Hathaway. Gupta was found guilty of four to six criminal counts, one count of conspiracy and three counts of securities fraud. The jury acquitted him of two counts of securities fraud.
Gupta was convicted on the basis of "circumstantial evidence," as the authorities could not present any real evidence that Gupta leaked information from the boardroom meetings of Goldman Sachs.
"We believe the facts of this case demonstrate that Mr Gupta is innocent," said Gary Naftalis, Gupta's lawyer.
"This was an iconic figure who had been a role model for countless people around the globe. He is no more."
Gupta's crimes amounted to up to 20 years in prison for securities fraud and five years for conspiracy. However, the lenient sentence is seen as a balanced judgment by the court considering his charity work, which the judge called "extraordinary".
Gupta was on the board of the Bill & Melinda Gates Foundation to help fight Aids, malaria and tuberculosis in developing countries. He was also the special adviser for management reform to former UN secretary general Kofi Annan.
Bill Gates and Annan were among the 400 friends and other dignitaries who have written to the judge seeking leniency for Gupta.
Gupta made a brief statement in the court in which he apologised to his family and friends.
"The last 18 months have been the most challenging period of my life since I lost my parents as a teenager. I've lost my reputation I built for a lifetime. The verdict was devastating. I feel terrible that they have been burdened with totally undeserved negative attention. I apologise to them and ask for their forgiveness."