Randy Orton and Bray Wyatt fought for the WWE Championship at WrestleMania 33 on 2 April and the WWE Universe expected the fight to be a show-stopper. However, it turned out to be a dull affair.
"Stone Cold" Steve Austin shared the same feeling and pointed out that the fight at the Grandest Stage Of Them All could have been spectacular, but he was left disappointed.
According to Austin, Wyatt needs to stop bulldozing his opponents and instead "torture somebody" and focus on "inflicting pain" as he is the Eater of Worlds.
"To me he is not just getting any heat," Austin said and noted that the reason might be Wyatt starts "smiling and laughing when someone says something" to him inside the ring.
"He's a god, he's an eater of worlds, and it doesn't add up to heat for me or that I take the guy in a serious fashion and he's got a lot of talent. I just think he needs to be coached a little bit to move in a different direction."
Austin also said the Viper does not have the "killer instinct" that he used to have and that was evident in the fight. "He has all the talent in the world and it would be nice to see him rekindle that."
"The crowd just wasn't really there for these guys, both guys worked hard, the effort was there but just the result wasn't that great."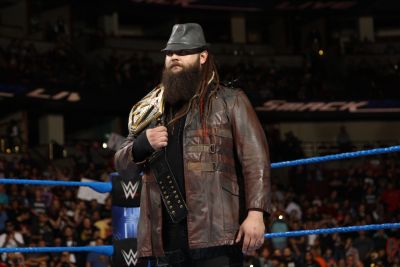 The feud between Orton and Wyatt started when the former was ambushed ahead of Backlash in September 2016. Wyatt then defeated Orton at No Mercy in October the same year with help from Luke Harper.
The 12-time champion joined The Wyatt Family as he became their target and had no one to support him. Orton gained Wyatt's trust and he helped the latter win a 5-on-5 fight (Team SmackDown vs Team Raw) at Survivor Series in November.
In December, the duo won the SmackDown Tag Team Championship from Heath Slater and Rhyno. Shortly after, Orton and Wyatt lost the title. Then Wyatt expelled Harper from the Wyatt Family as the latter did not get along with Orton.
In January, Orton came out on top from 29 other superstars at Royal Rumble. Orton promised not to challenge Wyatt for the WWE Championship if the latter won a triple threat match against John Cena and AJ Styles for the title. However, Orton made a U-turn and challenged Wyatt for the title and in the process also burnt down Wyatt Family's compound.
The hype the feud created over the months promised so much, but delivered next to none in the fight. And Austin rightly stated, "Where do they go from here? I have no idea."