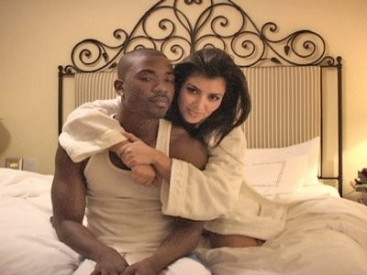 Kim Kardashian's marital bliss could soon hit a bump in the road if her sex tape ex has anything to do with it.
According to TMZ, Ray J has just put in an £2.7m offer on a house eight doors down from the reality star and her new husband Kanye West. The singer and his business manager, David Weintraub, were spotted checking out the property earlier this month.
You may recall that Kardashian rose to fame in 2007 after a video featuring her and Ray J was leaked online. The duo later sold the rights to the footage to porn giant Vivid Entertainment for $5m.
But don't expect Ray J to be knocking on the power couple's door for sugar. Thanks to his constant trolling, their relationship has been tempestuous to say the least.
Back in 2014 Brandy's younger brother teamed up with Joan Rivers to recreate the infamous sex tape and in 2013 he released his comeback single I Hit it First, a diss or insult track targeted at her.
Although he claimed that the provocative song was not about Kardashian, the music video features an array of heavy-handed references to the socialite and West. He used a Kardashian look-alike and mocked her popular E! Reality show.
"Brandy's little sister lame man he know it now/ When a real brother hold you down, you supposed to drown, " West rapped during a surprise performance on "Late Night With Jimmy Fallon."