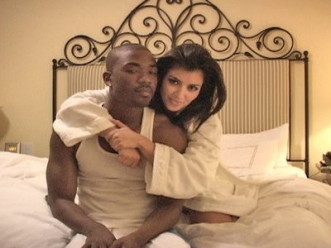 Many brides-to-be would welcome a $47,000 (£79,000) cheque ahead of their nuptials, but if your name is Kim Kardashian and the cash comes from a sex tape you made with an ex then you may be less than impressed.
According to TMZ, singer Ray J is keen to gift his 2014 profits from their infamous X-rated video to the reality star and her rapper fiancé Kanye West.
Kardashian rose to fame in 2007 after a video featuring her and Ray J was leaked online. The duo later sold the rights to the footage to porn giant Vivid Entertainment for $5 million.
Almost seven years after it surfaced online, the smutty clip is still making the former lovers money.
While Brandy Norwood's younger brother may be trying to extend an olive branch, the Keeping Up With The Kardashians star is likely to consider the gesture distasteful considering their turbulent history.
Earlier this year he teamed up with Joan Rivers to recreate the infamous sex tape and in 2013 he released his comeback single I Hit it First, a diss or insult track targeted at her.
Although he claimed that the provocative song was not about Kardashian, the music video features an array of heavy-handed references to the socialite and West. He used a Kardashian look-alike and mocked her popular E! Reality show.
Meanwhile, Kardashian and West are expected to marry at a fort in the Italian city of Florence on May 24. They are said to have chosen the romantic location because their daughter, North West, was conceived there.
"For me Florence is the most beautiful European city and one of the most beautiful cities in the world," he recently told Florentine news website La Nazione.
"But the real reason is that Kim and I were on the banks of the river Arno last year on our own incognito. And I think that our daughter North was conceived here amongst the Renaissance masterpieces. It was as if it was our first honeymoon."