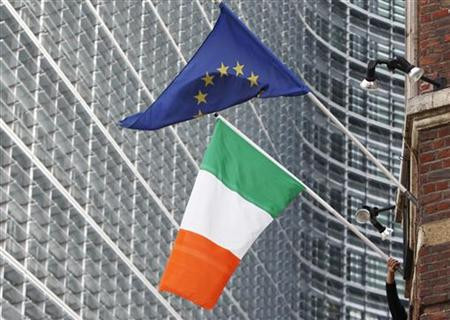 Shares in British banks were mixed in morning trading on the FTSE 100, with Barclays and RBS shares dropping amid concerns about the eurozone and the state of the global economic recovery.
Today saw renewed concerns arise about eurozone debt after ratings agency Moody's downgraded Ireland's credit rating from Aa1 to Aa2. Last week also saw Portugal's rating drop two notches thanks to concern about its debt levels.
There was also more discouraging news from Europe after it emerged that talks between Hungary and the IMF about a bailout were suspended.
Poor economic and companies data from the U.S. last week also hurt investor confidence in morning trading. Last Friday Citigroup and Bank of America released disappointing figures while consumer confidence was also shown to have dropped, according to official figures.
By 10:18 shares in Lloyds Banking Group were up 0.37 per cent to 59.83 pence per share and HSBC shares increased in value by 0.10 per cent to 623.60 pence per share.
However RBS shares declined 0.02 per cent to 43.70 pence per share and Barclays shares dropped 3.50 per cent to 285.00 pence per share.
Overall the FTSE 100 was up 0.43 per cent to 5,181.19.