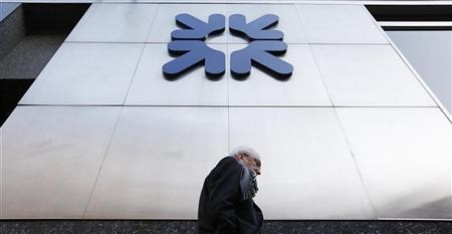 The Royal Bank of Scotland's bonus pool for bankers is tipped to reach £500m this year despite the embattled lender being fined for Libor fixing, undergoing a major change in management, and renewed crisis over its treatment of small to medium enterprises across Britain.
According to an alleged leaked report in the Sunday Times, RBS bankers will rake in half a billion pounds this year, despite a number of scandals that have rocked the bank.
RBS received a taxpayer funded £45bn (€54bn, $73bn) bailout in 2008 which eventually led it to be 81% owned by the government.
Although basic salaries have dropped since 2008, the average annual pay per head at the markets business stands at £108,000, which is based upon pay in the first three quarters of 2013.
In 2009, RBS bankers were, on average, earning £174,000 a year.
RBS told IBTimes UK that "no decisions have been taken on 2013 pay and any speculation is premature."
"Variable pay has been reformed dramatically at RBS and is now a fraction of what it was before the crisis."
Latest Allegations
Over the last week, the Serious Fraud Office and London's police are said to be laying the ground work for a criminal investigation into the bank after a government adviser claimed that RBS engineered businesses into default while profiting from their struggles.
Lawrence Tomlinson, an adviser to Britain's business secretary Vince Cable, claimed that RBS pushed businesses into default after moving them into its GRG.
He added that RBS also profited from their struggles as by moving them into GRG, this can create more revenue for the bank through higher fees and margins.
It can also result in the purchase of devalued assets by its property division, West Register.
Tomlinson runs LNT Group, based in the north of England which has annual revenue of £100m and has interests in construction, software, car manufacturing, and care homes.
After the release of Tomlinson's report, RBS drafted in heavyweight lawyers to review the treatment of small-to-medium sized enterprises (SME).
RBS' CEO Ross McEwan hit back at the allegations and said that there is "no evidence" that the bank "systematically profited from customers' distress."