A government adviser, hired by business secretary Vince Cable, has slammed the Royal Bank of Scotland for engineering businesses into default while also profiting from their struggles.
According to Lawrence Tomlinson, 81% government-owned RBS pushed businesses into default, in order to move them into its Global Restructuring Group (GRG).
This can create more revenue for the bank through higher fees and margins and can result in the purchase of devalued assets by its property division, West Register.
Since the revelations, Cable has demanded an "urgent response" from the Financial Conduct Authority (FCA).
"Some of these allegations are very serious and I am waiting for an urgent response as to what actions have been taken," he said.
Tomlinson was hired in April this year to help the government assess the scope and scale of issues that small-to-medium enterprises (SME) face.
RBS said in a statement that it "already committed to an inquiry to investigate how customers are treated by RBS when facing financial difficulties and ensure that we provide them with appropriate support".
"GRG successfully turns around most of the businesses it works with, but in all cases is working with customers at a time of significant stress in their lives. Not all businesses that encounter serious financial trouble can be saved."
Tomlinson runs LNT Group, based in the north of England which has annual revenue of £100m and has interests in construction, software, car manufacturing, and care homes.
RBS received a taxpayer funded £45bn (€54bn, $73bn) bailout in 2008. It is not unusual for a bank to remove problem loans from its books, especially when it is looking to reduce its exposure to risky assets.
A number of financial institutions have either siphoned off or created internal or external "bad banks" to deal with toxic assets.
In May this year, IBTimes UK conducted a special investigation into businesses that claim Britain's biggest banks were wilfully engineering SMEs to fall into default.
Embarrassment for Ross McEwan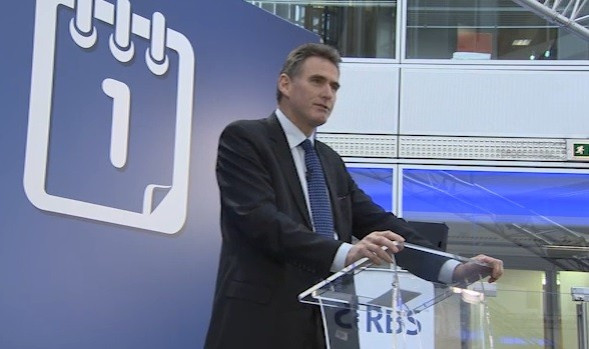 The latest revelations from Tomlinson will embarrass RBS's chief executive Ross McEwan, after he delivered a speech in Edinburgh only a few days ago promising to make RBS into a "great bank for our customers."
McEwan took over from Stephen Hester on 1 October and said he had "fear and delight" over taking the top job.
He said fundamental changes were underway at the bank, adding that his career has been spent "building organisations known for having a fixation on customers."
McEwan acknowledged that RBS had lost its customer focus following the banking collapse: "Our conversations became about capital ratios, risk and bad assets. Our problems ... not our customers' problems," he said.
According to the group's third quarter financial results, RBS says it plans to remove 55-70% of its £38bn worth of toxic assets over the next two years, following the creation of the "bad bank".
However, UK Chancellor George Osborne said it is unlikely RBS will be privatised before the next general election in 2015.