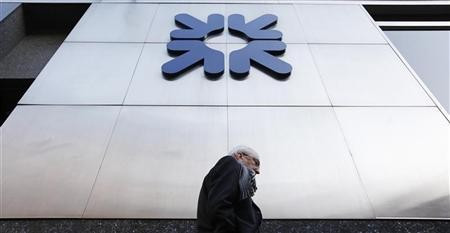 RBS shares fell in the first day of weekly trading in London following the collapse of its deal with Banco Santander late on Friday.
RBS stocks led the FTSE 100 decliners with a 1.37 percent fall as of 0729 GMT at 267.20p. In comparison, shares in Barclays, Lloyds, HSBC and Santander are all trading in positive territory.
Santander, Spain's biggest lender, was in advanced discussions to buy 316 RBS branches, which have a total of 1.8 million customers, for £1.7bn. However, it pulled out of the deal after the close of trading on Friday, leaving the UK bank to find another buyer soon or ask for more time to seek out another investor.
Under the terms and conditions of its £45bn bailout package in 2008, RBS, which is now 83 percent owned by the government, is under obligation to sell the branches by 2014. It is likely the bank will now seek a time extension.
The Financial Times and Reuters report that Richard Branson's Virgin Money has emerged as a potential alternative bidder, as well as US private equity entrepreneur Christopher Flowers' One Savings Bank.
The collapse of the deal will be a big blow to RBS, which initially received a boost to its share prices after successfully launching its insurance arm Direct Line's initial public offering on the London Stock Exchange on 11 October.
The 450m stake sale raised around £787m for the bank, which now values Britain's biggest car insurance group Direct Line at around £2.6bn.
Under the aforementioned bailout conditions, RBS is obligated to sell the remaining 70 percent Direct Line stake by the end of 2014. Around 15 percent of the IPO sale was held back by RBS and could be sold in the near future.