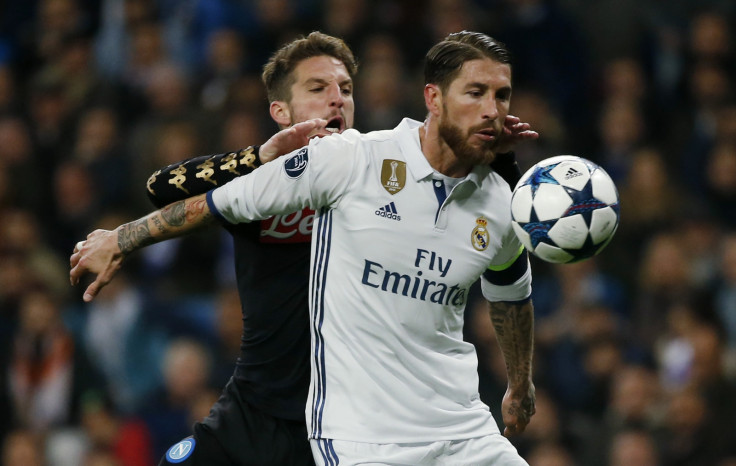 Real Madrid manager Zinedine Zidane says he took off captain Sergio Ramos as a precaution after the centre-back suffered a knock in the Champions League win over Napoli.
Ramos, 30, was replaced by Pepe in the 71st minute of Real's 3-1 victory at the Santiago Bernabeu after he sustained a blow to his hip earlier in the game.
Zidane explained in his post-match interview that he took off the Spain international as he did not want to risk aggravating the injury.
"Ramos picked up a knock but as the game went on he recovered. In the end, I took him off because of the knock and the fact he was on a yellow, I didn't want to risk it," the Frenchman told the club's official website.
"It was just a slight knock, nothing more."
Ramos said after the match that he wanted to continue playing despite his physical discomfort until the result was safe.
"I suffered a blow and I hurt my hip and adductor, I held on as I could until I thought the result was good, to wait for the tests. Hopefully it's not anything," he was quoted as saying by Goal.
Real suffered an early setback against Napoli as Lorenzo Insigne opened the scoring for the visitors with a sublime finish in the eighth minute at the Bernabeu.
Karim Benzema and Toni Kroos both scored to give the home side the advantage before Casemiro sealed the win with a stunning volley early in the second half.
"We put in a great performance, possibly our best," Zidane said.
"We recovered soon after going behind and got a goal and I'm happy with the result, we deserved this outcome.
"The scoreline doesn't matter, we now have to go there and go again. It'll be tough and we'll be made to dig in.
"The tie isn't over yet. We need to go there and finish the job with this 3-1 advantage."