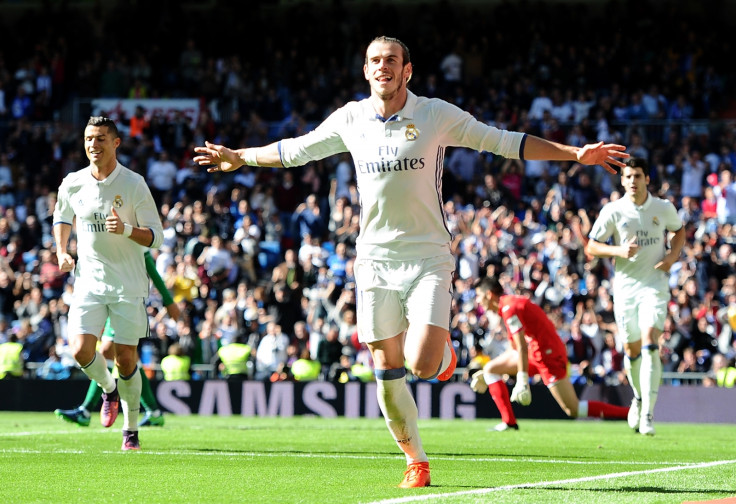 Gareth Bale has been ruled out for the visit of Napoli on Wednesday night (15 February) despite Zinedine Zidane claiming in a press conference that the Real Madrid ace is already fully recovered from his serious ankle injury. Meanwhile, the France boss backed Karim Benzema to respond his critics in the first leg of the Champions League last 16 after pointing out that he still has big faith in his compatriot.
Bale is yet to play a game since suffering an ankle injury during the Champions League 2-1 victory over Sporting on 22 November, being forced to undergo an operation in London a week later.
The former Tottenham Hotspur star was not expected to be back until late February or March but returned to training on weekend and was a contender to face Napoli.
Zidane said the Wales international is fully fit to play again but has decided to delay his return in order to give Bale more time to build his fitness.
"This is his first week back training with us, he's in good shape physically. You'll have to see whether he's in the squad or not, or whether he'll be in on the weekend. We'll see. He's had almost three months out and we have to take it slowly with Gareth. The important thing is that he's back training with us," the Real Madrid boss said in the press conference, only minutes before announcing the player has not make his 19-man squad to face Napoli.
Benzema, meanwhile, has only scored five goals in La Liga this season and is under huge scrutiny after having failed to find the net in his last six appearances for Real Madrid. Many fans have been urging Zidane to drop his compatriot since the beginning of the campaign as Alvaro Morata has scored more goals than him in the league (6) despite being used as a back-up.
However, Zidane suggested that the former Lyon striker will continue in his line-up when Real Madrid host Napoli on Wednesday, pointing out that Benzema's work for the likes of Cristiano Ronaldo and the rest of his teammates is also key.
"Everyone's entitled to express their opinion, but what's important is that every day I see him focused and working hard. Everyone can ask for more from a player like Karim, but to me he looks good and I'm happy with his work," Zidane said. "Benzema is fine. Your job is to write what you think, but he looks good to me. He's focused and of course I'd like to see him score goals tomorrow. It hurts me when all my players are criticised, not just Karim. They know that criticism is part of football and that it can help them grow".
"Karim allows other players score. We ask him to score, but he also makes assists and helps others play better. That's what interests me the most. We all know Cristiano and we know what he can bring. He has a good understanding with Karim".
Ronaldo is thus expected to complete the Real Madrid attack despite the Ballon D'or winner set alarms bells ringing at the Santiago Bernabeu on Monday morning when he failed to take part in the training session with the rest of his teammates. The Portugal international returned to the workout on Tuesday and has made Zidane's final squad.
Yet, for the first time in a while, the Real Madrid boss had a fully fit squad to select and has thus been forced to leave out Fabio Coentrao, Danilo, Marco Asensio and young Mariano due to technical reasons to make his 19-man list.
This way Dani Carvajal, who has missed the last games due to injury, is ready to recover his place in the defences alongside Sergio Ramos, Raphael Varane and Marcelo while Casemiro, Luka Modric and Toni Kroos are expected to form the midfield. Then, Zidane faces a dilemma on whether to fill the remaining gap of his starting eleven with Isco, Lucas Vazquez or even James Rodriguez.
Meanwhile, Zidane has hailed the importance of not conceding a goal on Wednesday night, ahead of having more chances to go through the quarter finals of the competition in the second leg to be play at Napoli in three weeks.
"In a two-legged tie it's always important to not concede goals. At home the important thing is to keep a clean sheet. It's our message, but more importantly, I want to go out focused on our own game. It's half of a knockout tie and tomorrow is the first game. We know we can cause them problems but they can cause us problems too. We're ready for the game," the boss added.
"I want us to be focused in the way we go about things. We have the first game at home tomorrow and we know that we can hurt the other team and that they can cause us problems too. We're ready; that's the most important thing."
"We know that this competition is difficult. We'll take it step by step and match by match. Every team wants to win the Champions League but it's a long and hard road and we're on that road. We're in good shape and we've got all the players back. It's more difficult to pick the squad now but I'm happy to see everyone ready for the Champions League,"
"We've got a very important Champions League game. The final is in Cardiff but we've got a knockout game now which we must fight in, against a very good opponent that will make things difficult for us. The players are really looking forward to playing."