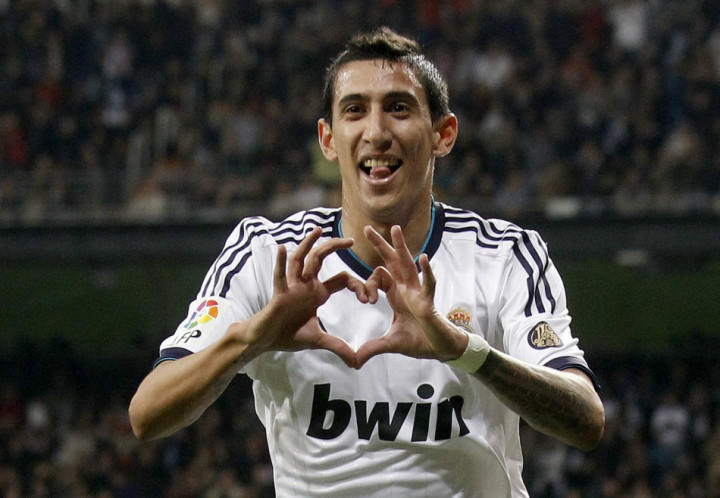 Angel Di Maria's future at Real Madrid looks all but finished after manager Carlo Ancelotti left him out of the squad for the Spanish Super Cup second leg final against Atletico Madrid on Friday night.
The Argentina international played a crucial role in the 1-1 draw against Diego Simeone's side last Tuesday, coming on in the 77th minute and received a standing ovation from his own supporters.
Indeed reports in Spain claimed Ancelotti was planning to include him in his starting line-up for the second leg even ahead of Luka Modric or £63m new signing James Rodriguez.
However, the Argentinian has not only been left out of the starting eleven but also from the squad – in a clear sign he is facing his final hours at the Santiago Bernabeu.
Reported Arsenal target Sami Khedira has also been omitted.
On Thursday the Real Madrid boss confirmed that the 26-year-old star had rejected the club's offer of a new contract and was desperately looking to leave the Santiago Bernabeu before the transfer window closes.
"Di Maria asked us to leave in the summer and refused an offer to renew his contract," Ancelotti said during a press conference ahead of the Spanish Super Cup secong-leg game against Atletico Madrid.
"He is seeking a solution but if when the (transfer) market finishes he is still here, he will work with us as he did last year. There is no problem on it".
Paris Saint Germain, Barcelona and Manchester United are said to be monitoring the situation but reports in Spain claim the Premier League giants are in pole position.
Real Madrid have reportedly declined to negotiate a deal with one of their biggest rivals, Barcelona, while PSG boss Laurent Blanc recently said is "a difficult" signing for them.
Blanc told the press: "I don't think so. With big players like Di Maria, there are a lot of clubs after him, certainly. PSG cannot do what it wants, it is a difficult subject, the president has confirmed to me."
Should United finally sign Di Maria it will be a major addition for Louis van Gaal, as the Dutchman recently expressed his desire to have a player like him .
"At this moment, we have five number nines and four number 10s – and we don't have any wingers to give us attacking width," he said.
"Or, I should say, we don't have wingers of the highest level, like Ronaldo or Di Maria or somebody like that. So, I have to play another way –and you have seen that already. I only buy when I think we need to buy –the position that is necessary."