Real Madrid crisis: Rafael Benitez handed vote of confidence by president Florentino Perez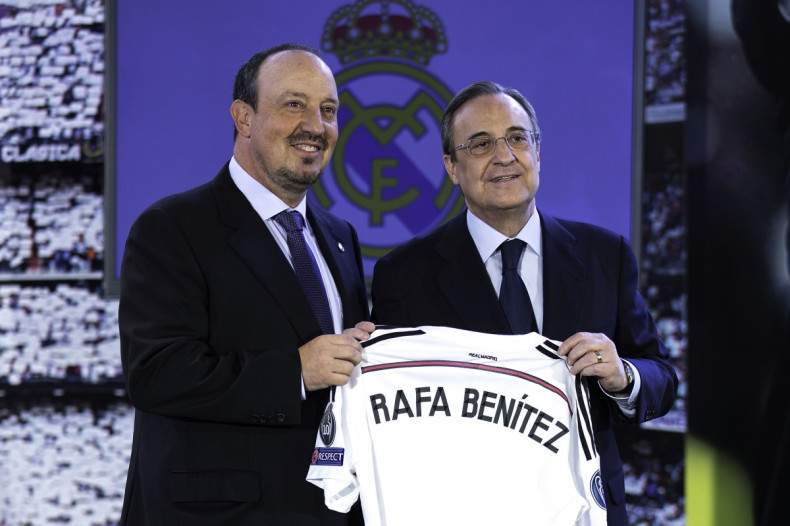 Real Madrid president Florentino Perez has given manager Rafael Benitez a fresh vote of confidence despite the club being thrashed by rival Barcelona in the 4-0 home defeat on 21 November. The club chief was forced to call a press conference on 23 November to back the former Liverpool and Chelsea boss after the Santiago Bernabeu fans voiced their frustration during El Clasico with the manager and especially Perez by urging them to resign.
Benitez has been under scrutiny at the Santiago Bernabeu since he took charge at the club due to his defensive approach to the game. The defeat against Barcelona increased speculation about his future, with reports in Spain claiming a number of key players, including Cristiano Ronaldo, would like him to go.
But speaking with the Spanish media on 23 November, Perez said: "Following a meeting with the club board we want to inform that the Real Madrid manager, Rafa Benitez, has our full support and our full confidence."
Despite two consecutive defeat against Barcelona and Sevilla, Real Madrid are third in La Liga table, just six points behind the Catalan side, while they top their Champions League group ahead of Paris Saint-Germain. Perez is confident the Spanish manager is still the right man to turnaround the current situation in the upcoming fixtures against Shakhtar Donetsk on 25 November and their league visit to Eibar on 29 November.
"Rafa Benitez has the capacity and has only just started his job here. Let him keep working and achieve his objectives. We are convinced that we have a great squad that will give much happiness to a fans that deserves everything," he said.
"He was chosen to bring success to this squad that since January has struggled [with fitness problems]. We chose Rafa with the confidence he could turn around the situation because he works non-stop day and night. Now more than ever he needs the support of all of our supporters."
Fans urged Perez to resign during the game against Barcelona, while a poll by AS revealed most of the supporters (66%) blamed the president about the situation even ahead of Benitez (34%).
"I understand the unhappiness and the anger of the fans with what happened on Saturday, but I ask them that they support the team," he said. "I respect the opinión of the fans but it [the chants against him] always came from the same. The Ultra sur [Real Madrid radical supporters] use every way possible to intimidate me."
Some reports suggested he may call for early presidential elections to determine the support of the fans but Perez said: "The board has not said not even one word about elections. Players always work for the members of this club, who are the only true owners of the club and those who decide the future of Real Madrid."
In March, during the 2014-15 season, Perez called a similar press conference to express his full confidence on former manager Carlo Ancelotti, just to part ways with the Italian two months later after a season without silverware.
But Perez said: "I don't know if you are capable of being sure that you're going to still be working where you work now in a few weeks' time. I believe sincerely that there are people who lie in order to damage Real Madrid."
Asked about recent reports claiming Ronaldo has asked him to part ways with Benitez, he said: "Cristiano Ronaldo has never said anything about anyone. He has never said to me that with Rafa Benitez we aren't going to win anything either. He is a good guy and that reports are just trying to damage us like the ones which say that I want to sell Ronaldo and that I had a meeting with the PSG president to sell him. I can assure that Benitez has a good relationship with the squad."