Real Madrid forward Cristiano Ronaldo is in danger of missing the Champions League semi-final first leg against Manchester City after suffering a muscle injury against Villarreal in La Liga. Ronaldo limped off towards the closing stages of the 3-0 victory at the Santiago Bernabeu on 20 April but Madrid boss Zinedine Zidane later suggested that it was only a minor knock.
The Portuguese forward is expected to have medical tests to assess the extent of the problem on 21 April. Zidane could not replace Ronaldo as he had already used all of his substitutions, forcing Real to play the final minutes of the Villarreal match with 10 men.
Gareth Bale is already sidelined with a muscular strain for Real, with the Spanish giants facing a crucial league fixture against Rayo Vallecano on 23 April followed by a midweek trip to the Etihad to face City in the Champions League.
'Ronaldo needs rest'
"[Ronaldo] felt something right at the end, but I can't confirm anything yet," Zidane was quoted as saying by Football Espana after the Villarreal match. "I think it was more a scare than something serious. [Tomorrow] we will calmly see what Cristiano has but I'm calmer now."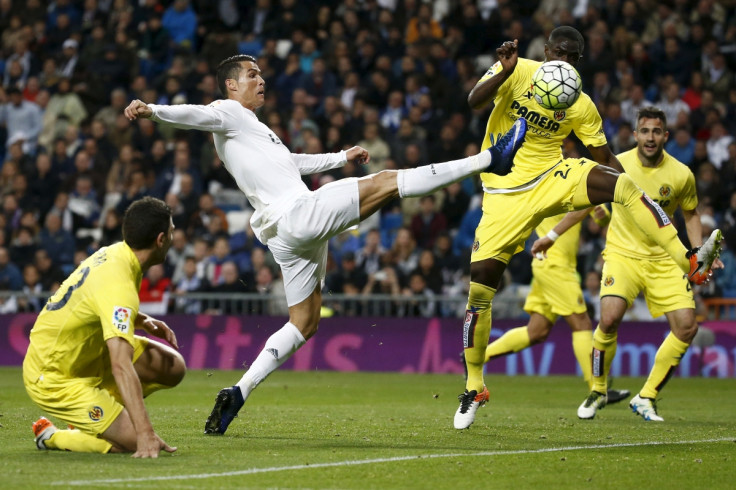 The Frenchman admitted that he would like to rest Ronaldo more, with the Portugal captain the only outfield player in the Spanish league to have played every minute of every match until he limped off against Villarreal.
"Sometimes I regret not taking off Cristiano earlier so he doesn't go through this. He needs [a rest] from time to time," Zidane was reported as saying.
"For a coach, when you have Cristiano, it is necessary for him to sometimes not finish a game or not play, but he's a player who always wants to play and give his maximum. Sometimes, for me, when he leaves the pitch, it's difficult. We'll see how he recovers."