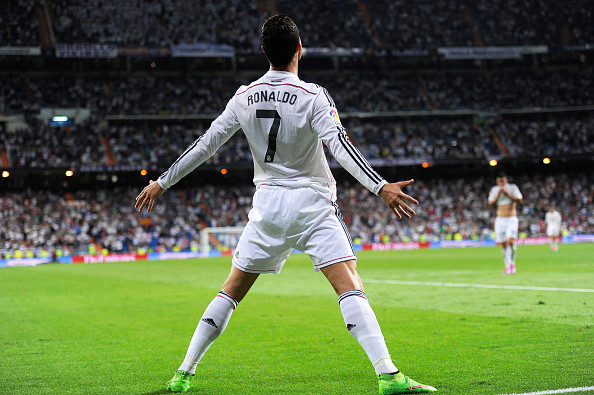 Manchester United and Paris Saint-Germain have both been put on notice in their bids to sign Cristiano Ronaldo, with former Real Madrid president Ramon Calderon saying that whatever they spend to tempt the player away from Spain will by paid back to them in the marketing revenue he generates. However, Calderon admitted he wanted the Portuguese star to stay at the Santiago Bernabeu as he is "priceless" and only Lionel Messi is at his level.
Calderon resigned as president of Spanish giants in January 2009. However, speaking with IBTimes UK earlier this year, he claimed he was the one who ironed out the £80m ($123m) agreement that saw Ronaldo move from Old Trafford to the Bernabeu.
Ronaldo has since been significant not just Los Blancos' trophies, including the 2013/14 Champions League, but also for the sponsors. Some would suggest that a big-money move for a player the wrong side of 30 would be an error.
But during an interview with Le Parisien, Calderon said that paying €100m for the star would actually be a bargain.
"Cristiano Ronaldo is priceless," he said. "Because what he gives to the team, in terms of goals and mentality, he has no equivalent except Messi. If PSG or Manchester United sign Ronaldo, they will have no problem recovering the purchase price, however high, thanks to marketing benefits. If the Real sells him for €100m, they will without a doubt be richer, but they will never be able to buy a player like him again."
Ronaldo has been linked with both PSG and United in recent months despite the player himself suggesting that his future lies at the Bernabeu. Calderon wants to see him hanging his boots with Los Blancos too, but admits his departure in the summer is a possibility.
"I have heard rumours that there's strong PSG interest [in Ronaldo]," he said. "As the former president of Real Madrid, I hope that it never happens. But as someone who knows football, I think it could be possible.
"For now, Cristiano hasn't expressed [a desire to leave]. I think he will take a decision at the end of the season, depending on the titles won and the feelings he has. In the meantime, the mystery will continue."