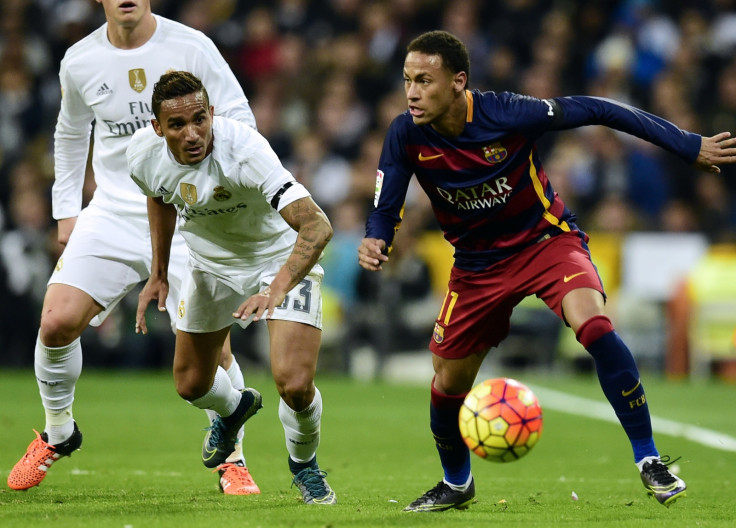 Real Madrid right-back Danilo has revealed that Neymar tried to convince him to join Barcelona during the summer of 2015. However, the former Porto defender said that as soon as he learnt that Los Blancos were also interested in his services he didn't think twice about moving to the Santiago Bernabeu.
Danilo and Neymar played together at Santos before both players agreed to make the move to European football. The current Real Madrid right-back moved to Porto in the summer of 2012 and Neymar followed in his footsteps a year later to join Barcelona.
The Brazilian duo had the chance to share a team again in the summer of 2015 when Danilo attracted the attention of Barcelona.
Barcelona were then looking to sign a long-term replacement for Dani Alves and different reports at the time claimed that Danilo had been identified as their top target.
However, Real Madrid won the race after agreeing to pay Porto around €31.5m (£27.7m, $35.1m) for his services.
The 25-year-old has admitted that even Neymar tried to persuade him to move to Barcelona but he didn't hesitate to make the move to the Bernabeu.
"I was having a very good time at Porto. There were many clubs interested [in my signing]. I talked to Neymar because we were great friends from Santos. He told me to come [to Barcelona]. But he respected [my decision to join Real Madrid] a lot because he knows it was a very personal decision, about my feelings. When Real Madrid told me that they wanted me I was very clear," Danilo said to Sport TV.
Danilo has since served as a back-up for Dani Carvajal at right-back. However, he believes that his decision to join the club has paid off having won two Champions League crowns and one La Liga title in his two first seasons at Real Madrid.
"The media pressure at Real Madrid is the largest in the world, without doubt. An error, no matter how small, goes viral. A mistake becomes very great even if it is small," Danilo said. "And, of course, when you do something good, it is also great. I am very happy and looking forward to start the new season."