Real Madrid president Florentino Perez has revealed he has not held talks with Cristiano Ronaldo and says the uncertainty surrounding the player is "very strange".
The Portuguese international is alleged to have knowingly used a business structure created in 2010 to hide his image rights income from Spanish authorities. The Champions League and the La Liga winners have publicly backed their star player, saying they have "full confidence" in the former Manchester United man.
IBTimes UK earlier revealed that Ronaldo wants to leave Real and he has already informed the club of his decision. The forward is "outraged" by the tax fraud allegations and is determined to leave Spain.
United and Paris Saint-Germain are reportedly interested in signing Ronaldo in the summer transfer window, reports the Sun. In addition to this, his club teammates Alvaro Morata and James Rodriguez have been linked with a move away from Real, with the Red Devils keen on signing the 24-year-old Spain international. Perez says he has not received any offers for the trio.
"I do not want to draw conclusions. I know Cristiano; he's a great guy and a professional. All this is very strange," Perez told the Spanish radio station Onda Cero, as quoted by Sky Sports.
"I have not spoken with him since [the Champions League final in] Cardiff. I've heard everything through the newspapers.
"Not I nor anyone at Madrid is contemplating that Cristiano could leave the club. We are very relaxed about this. I have not spoken to any [other clubs].
"No one has made us a single offer; not for Cristiano Ronaldo, not for Alvaro Morata, not for James Rodriguez."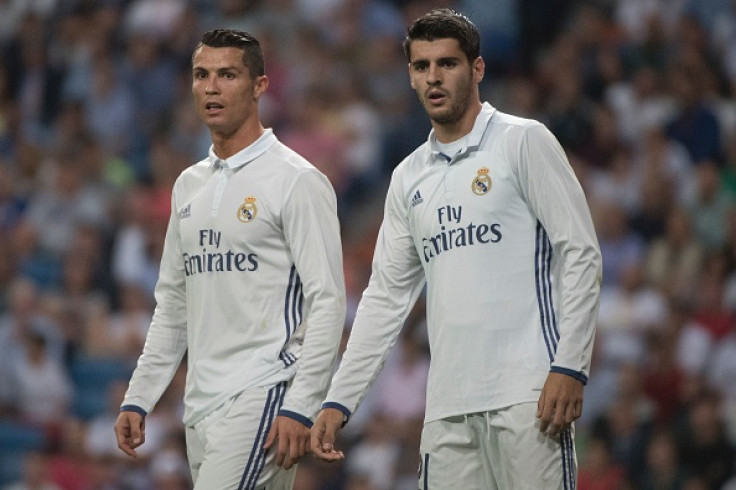 Ronaldo is currently on international duty with Portugal at the 2017 Confederations Cup in Russia. He scored 42 goals in all competitions and played a key role in helping his club win the Champions League and the La Liga. Perez says he will hold talks with the 32-year-old after his national side's campaign in the ongoing Fifa event.
"What happened to him has affected his credibility. He will surely tell us and we will see what happens," the Real chief explained.
"The tax issue I do not know well. Our obligation is to comply with tax duties. The principle is that, starting from that principle, and Cristiano has always had the will to fulfil because I know him as a person.
"He has to fulfil his fiscal obligations, like all. His lawyers have said he has never hidden anything, and I believe in his credibility. If there is no concealment, there is no bad faith, and his lawyers say there has been no concealment so there is no will to cheat."
Perez was re-elected Real president after he was the only candidate to file his nomination for the post. He will be in charge of the club for the next four years.