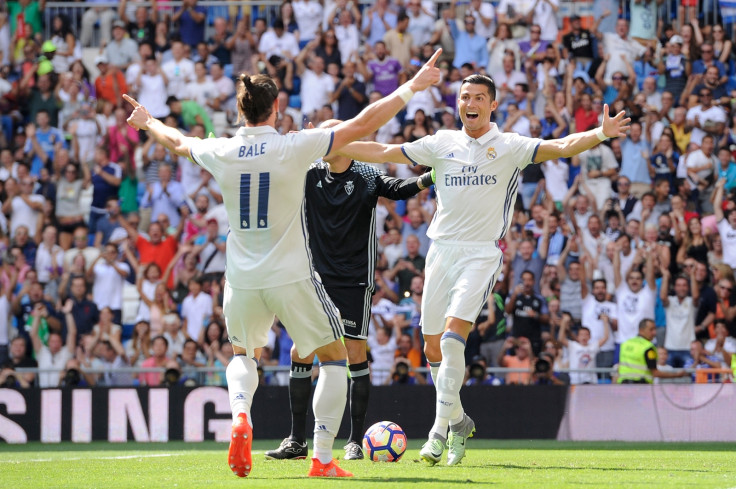 Cristiano Ronaldo and Gareth Bale have set alarm bells ringing at Real Madrid ahead of Sunday's trip to Espanyol after the duo failed to train with the rest of the squad on Friday (16 September). However, in more positive news, Fabio Coentrao completed the workout following a long injury lay-off.
Ronaldo missed the opening games of the season after suffering a knee strain during Portugal's victory over France in the Euro 2016 final. After two months on the sidelines he returned to action last weekend, playing 66 minutes in the 5-2 victory over Osasuna to help Los Blancos move to the top of La Liga following the defeats of Barcelona and Las Palmas.
The Portuguese international continued his return to full fitness in the Champions League on Wednesday night by playing the full 90 minutes in a dramatic comeback in a 2-1 victory over Sporting Portugal. The former Manchester United hero played a crucial role in the win once again, equalising in the 89th minute with a free-kick before Alvaro Morata completed the turnaround with an injury time winner.
But Real Madrid have now revealed that the Portuguese together with Bale have been unable to train with the rest of the squad on Friday, as Los Blancos began their preparations for the trip to Espanyol after a day's rest.
"Cristiano Ronaldo and Gareth Bale trained using the indoor facilities in a session which saw Zidane call up Real Madrid Castilla players Enzo and Odegaard," the club revealed in an official statement.
Real Madrid have failed to spell out the reasons behind Ronaldo's s absence, but it could be only a precaution to enable him achieve full fitness.
However, there are more concerns about Bale after he was forced off in the 67th minute of the game against Sporting. Teammate Raphael Varane later revealed that the former Tottenham star had suffered a hip knock, with reports in Spain claiming the Welshman was set to miss the trip to Espanyol.
Real Madrid have failed to give an update on the situation, but his absence from the training ground only two days before the trip to Barcelona is certainly not a good omen for the Welshman.
Meanwhile, Los Blancos did confirm that "Coentrao completed the entire session with his teammates". The Portuguese left-back is yet to feature for Real Madrid this season after returning from a spell with Monaco with an injury.