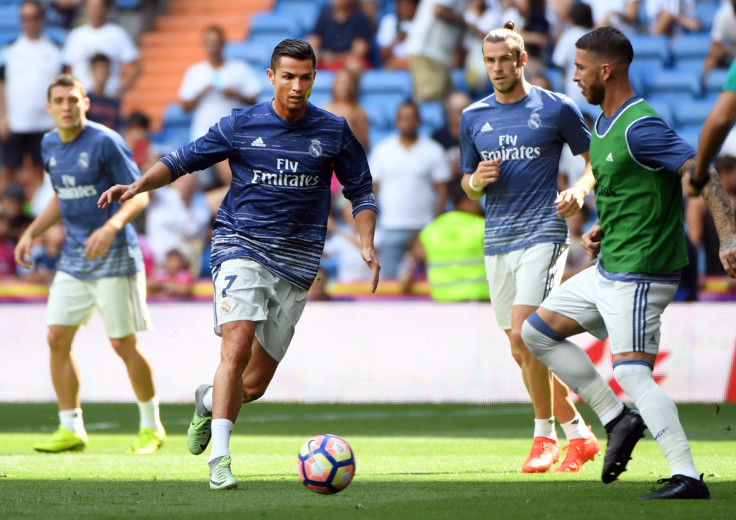 Cristiano Ronaldo and Gareth Bale returned to the Real Madrid training sessions on Monday morning (19 September) after the key duo missed the 2-0 victory over Espanyol due to illness and injury respectively. The news is a massive boost for manager Zinedine Zidane ahead of a busy week which will see Los Blancos hosting Villarreal on Wednesday before a Saturday trip to Las Palmas.
However, Casemiro and Pepe missed the workout after the former was forced off earlier in the game.
The Portuguese had a virus which also kept him out of the Friday workout while Bale suffered a hip knock during the Champions League 2-1 victory over Sporting Portugal last week, being replaced in the 67th minute of the game.
Zidane suggested on weekend that neither problems were serious but decided to leave the duo out of the weekend trip Espanyol to avoid any risk.
"Cristiano will not be travelling with us as he has a sore throat. He will be staying in Madrid. He is simply not ready, we won't be taking risks with anyone and least of all with him," Zidane said when asked about the Portuguese international's absence.
While speaking about Bale he added: "Gareth took a big knock to the hip so we won't be risking him. The players all want to play, but we're playing every three days, we have a lot of games, and we can't risk such an important player. This is a group, so they are all key components, and when someone has an issue it is better for someone else to play. We always think with a group mentality."
Karim Benzema, Lucas Vazquez and young Marco Asensio thus led the Real Madrid attacking line in the 2-0 victory over Espanyol on Sunday night, with the Frenchman scoring the second goal of the game following James Rodriguez's opener.
But it looks that Zidane may recover both Ronaldo and Bale for the midweek visit of Villarreal after Real Madrid had confirmed that the duo re-joined the group on Monday.
However, Casemiro and Pepe could be a doubt for the game with the Yellow Submarine after they missed the session. The centre-back completed the full 90 minutes against Espanyol but the Brazilian midfielder was forced to be replaced by Toni Kroos only after 19 minutes after tangling with Papakouli Diop.
"The league leaders were back in training at the Real Madrid City. Cristiano Ronaldo and Bale rejoined the group for a session which saw the players who had played most minutes in the win against Espanyol undertaking recovery work," the club confirmed in its official website. "Casemiro and Pepe worked inside."