Real Madrid have been encouraged to sell Cristiano Ronaldo after a poll by Spanish daily AS revealed that more than 67% of their voters don't want the former Manchester United star at the Santiago Bernabeu anymore.
Madrid-dominated publication AS this week reported that Ronaldo wants to leave Los Blancos and return to United after "feeling betrayed" by club president Florentino Perez over a broken promise of a pay rise.
The Spanish publication then said that Florentino vowed to give him a new lucrative deal last summer after the Ballon d'Or winner helped Zidine Zidane's side to win both La Liga and the Champions League, scoring 42 goals in 46 games, including a brace in the final against Juventus.
Ronaldo only signed a new long-term deal in November 2016 which according to AS is worth around €21m (£18.6m, $25.7m) per season – the equivalent to £360,000-a-week.
Yet, it has been said that the Real star believes that Los Blancos should upgrade it again after the likes of Lionel Messi and Neymar signed contracts worth more than the double at Barcelona and Paris Saint-Germain respectively.
AS added in their report that Ronaldo had already told United officials about his desire to return to with some Real teammates also aware of his "firm" desire to leave the Santiago Bernabeu.
Days later Portuguese publication Record said that Perez is unlikely to fulfill the demands of Ronaldo and has already told his agent Jorge Mendes to bring him offers from other clubs ahead of a potential transfer.
Nevertheless, it is uncertain whether United or other clubs would still be interested in signing the 32-year-old forward following a poor start to the season in which he has only scored four La Liga goals.
However, it appears that many Real fans will certainly support the sale of Ronaldo given the result of a poll conducted by AS.
Questioned whether they "want Cristiano to continue" at Real more than 67% [around 86,000 readers] of the voters replied no while only 32% [around 42,000] said yes.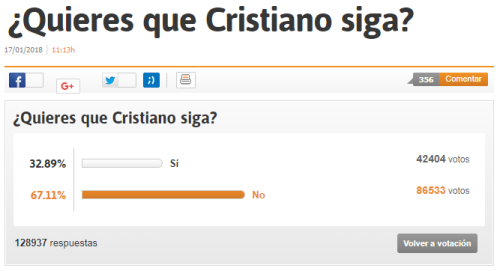 Ronaldo's future at Real came under question in the summer after reports from Portugal claimed that he was upset by allegations that he knowingly failed to pay up to £13m in taxes to the Spanish authorities.
However, the former United star finally remained with the La Liga giants and on Wednesday [18 January] Zinedine Zidane expressed his hope that the saga would end the same way this time around after claiming that he "can't imagine Real Madrid without Cristiano Ronaldo".
"We know what people are saying, but what Cristiano has to do is think about playing, like he always does. I just want to talk about his performance and what he can bring to the team on the field. Cristiano is at his club, where he should be. The club, the fans and everyone loves him. I always say the same, I can't imagine Real Madrid without Cristiano," Zidane said ahead if the first leg of the Copa del Rey quarter-final clash against Leganes.
"The footballing side is what interests me the most. People are talking about this at a difficult time for the team, but we still believe that things are going to change.
"I don't want to talk about the contract or things like that. Cristiano can do that and it's him and the club who should talk about that. What I talk to Cristiano about are on-field matters. It's better for everyone. Those upstairs manage it and I don't get involved."