Real Madrid have been encouraged to rethink their transfer plans over selling Manchester United target Angel Di Maria after a recent poll by Daily AS revealed that their readers prefer him even to new £63m signing James Rodriguez.
Although everyone is entitled to vote in the poll, the results are especially suggestive for Real Madrid because AS is based in Madrid and most of its readers support the Champions League winners.
Di Maria's future at the Santiago Bernabeu has been under increasing scrutiny this summer as the player himself was said to be keen on moving away - especially after Los Blancos spent around £63m on World Cup sensation James Rodriguez to replace him in the midfield.
However despite several rifts last season between Di Maria and the Real Madrid supporters, they have now voted him as their preferred choice to partner Toni Kroos and Luka Modric in the Real midfield ahead of the Colombian star for the Spanish Super Cup.
When questioned whether Di Maria or Rodriguez should play in the first leg clash against Atletico Madrid on Tuesday night, Real fans picked the Argentinian as their preferred choice with 75% (around 27,000 readers) of the vote, with just 25% (around 9,000) opting for Rodriguez.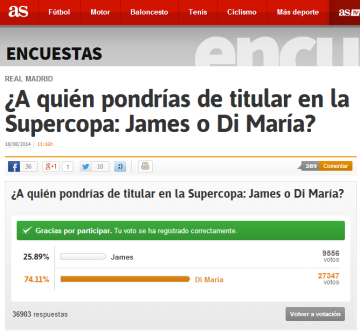 While Rodriguez failed to make the impact expected in the European Super Cup against Sevilla last week, Di Maria was the best Real Madrid player so far in their friendly against Fiorentina last Saturday.
Reports in Spain suggest Real Madrid president Florentino Perez is still keen on selling him but manager Carlo Ancelotti is desperately trying to convince him to keep him in his ranks.
Both United and Paris Saint-Germain are closely monitoring the situation while Ancelotti himself recently admitted he does not know whether or not the Argentinian will stay.
"I don't want to enter into this theme so I don't lose focus on tomorrow's game. Di Maria is available like all the others. He may or may not start the game and has opportunities, but like everyone else.
"I don't know what Di Maria has decided. But I know that he's training and that he could help us in tomorrow's match. Until August 31 it will continue the same way and after that everything will be cleared up and things will return to normal."