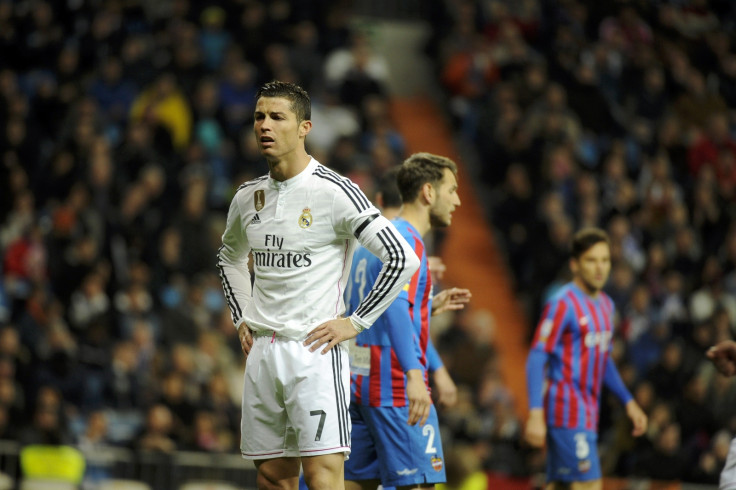 Real Madrid star Cristiano Ronaldo was rebuked by his own fans during the 3-0 victory over Almeria on 29 April after the former Manchester United star refused to celebrate the goals of his teammates and ruined a couple of easy chances.
After Barcelona star Lionel Messi scored a brace in the Catalans' 6-0 victory over Getafe on 28 Apirl, the Portugal international failed to increase the distance between himself and the Argentine in the race to be crowned La Liga's top goalscorer.
Ronaldo started the season in much better shape than the Barcelona star but has faded since he beat his rival to the Ballon D'or award and now is just one goal ahead in the scoring charts, having netted 39 goals.
And after failing to score in the previous victory over Celta de Vigo, Ronaldo did not hide his frustration when he missed several decent chances against Almeria.
The former Manchester United hero ruined a two-on-one situation when he failed to assist an unmarked Javier Hernandez to score, while later in the game, instead of celebrating Alvaro Arbeloa's goal, which made the score 3-1, he expressed his frustration by booting the ball into the goal.
Real Madrid fans, who have rebuked Gareth Bale during a number of games this season due to his alleged selfishness, also whistled in fury at the Portuguese star for his individualism and lack of camaraderie.
However, manager Carlo Ancelotti played down his gestures after the game. He said: "He's great, he's not tired, he's fresh, he didn't score but he worked well for a goal. He could score on Saturday.
"If Cristiano didn't score from here to the end of the season I'd be happy, he's already scored 50, I've never had a player like him in my career..."
Meanwhile, Arbeloa also came out to defend his teammate. The former Liverpool defender said: "Cristiano's behaviour didn't bother me. He's just hungry to score. His battle with Messi to be top scorer is heating up."