Real Madrid midfielder James Rodriguez has hit back against media criticism of his attitude and professionalism. The Colombian playmaker has struggled to establish himself in the first team this season amid reports of a falling out with former Real manager Rafael Benitez, while question marks have been raised about his fitness levels.
The 24-year-old made headlines in Spain in early January after it was reported that he was pursued by a police car to Real's training ground for allegedly speeding at 200kph (124mph).
Rodriguez started his first match under current boss Zinedine Zidane against Real Betis on 24 January but could not inspire his team to victory at the Benito Villamarin, with the game ending in a 1-1 draw.
"The talk really p***** me off. My people know how I act and that I always seek to take good care of myself," Rodriguez was quoted as saying by Marca after the Betis match.
"I'm a professional. What's been said about me going out a lot at night is a lie. It really p***** me off that people doubt me and say I'm looking fat."
The former Monaco player accused the media of sensationalising their coverage of the high-speed pursuit he was involved in on 1 January, saying that the incident was the result of a misunderstanding.
"I wasn't going as fast as everyone says. I had music playing at a high volume [so I couldn't hear the sirens]," he stated.
"I'm not stupid; if I'd seen them I would have pulled over. I apologise – people make mistakes."
'Footballing decline'
Colombian journalist Ivan Mejia claimed recently that Rodriguez had "lost his humility" during his second season at Madrid.
"He's in a footballing decline, he's not playing well," he was quoted as saying by the Daily Mirror.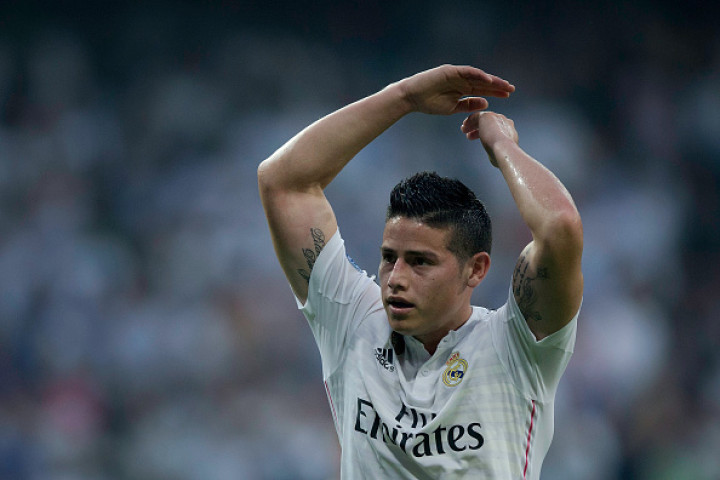 "The Madrid board are worried because he's not that same James that arrived after the [2014] World Cup.
"He's racing his car, he's going out at night, he's making appearances in Qatar.
"He's lost all sense of perspective and isn't training well. If he doesn't come back down to earth the he'll become a flash in the pan," Mejia added.
Manchester United have been linked with a summer move for Rodriguez, who has scored 16 goals in 41 league appearances for Madrid.