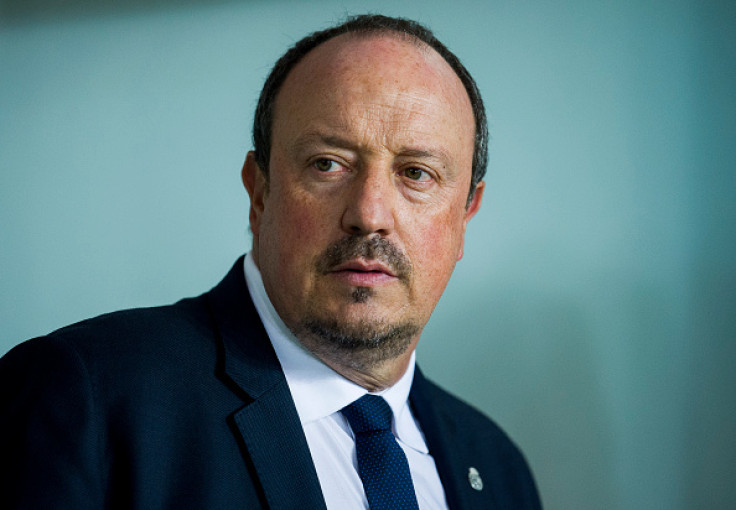 Real Madrid manager Rafael Benitez has responded to Sam Allardyce's jibe regarding the Spaniard's spell with Liverpool. The newly appointed Sunderland boss wrote in his autobiography titled – Big Sam – that the former Reds boss had no part to play in the Reds' incredible comeback win in the Champions League final against AC Milan in 2005.
Allardyce, who was in-charge of Bolton Wanderers during Benitez's reign at Merseyside, has admitted that he enjoyed beating his counterpart, while revealing that the former Reds manager did not speak to him following their encounters. Apart from the current Real Madrid manager, Arsene Wenger was also targeted by the Englishman.
"Rafa Benitez was another one. When we beat his Liverpool team he would complain 'They don't play my type of football," Allardyce wrote in his autobiography, as quoted by ESPN FC.
"What was that, then? Winning football? He didn't like me and he thought he was superior. Here was a trendy foreign manager with all his smart ideas getting beat by some oil from the Midlands. Benitez wouldn't talk to me at all and that just made it all the better when we won."
The former West Ham United manager also feels that Benitez should not be given the credit for Liverpool's amazing comeback victory when the Anfield outfit came back from 3-0 down to win via a penalty shootout, in the Champions League final against AC Milan in Istanbul. He believes that it was Reds skipper Steven Gerrard who inspired the team to their famous victory.
"Of course he can say he won the Champions League with Liverpool, which is something I never did. But it was not to do with him. Steven Gerrard took that final by the scruff of the neck and dragged Liverpool back from 3-0 down against AC Milan to eventually win on penalties."
"I don't blame Benitez for claiming credit -- but as managers we know the truth. It's like when you make a substitution in desperation and it comes off. You get all the credit for your tactical brilliance when it's often just luck," he added.
Benitez, however, has dismissed Allardyce's suggestion and believes that his statements have no value as they were made only to benefit book sales. The Real Madrid boss questioned the Englishman's pedigree when it comes to winning major trophies, while asking Spanish media, if they are aware of who Allardyce is.
"Do you know who Sam Allardyce is? Do you know how many trophies he has won? Well that's my answer. It is what happens when someone has a book to sell. His opinion does not have a lot of value," the former Reds manager told Spanish radio station Onda Cero, as quoted by ESPN FC.