Real Madrid president Florentino Perez came out to defend Carlo Ancelotti and Gareth Bale from the increasing scrutiny on 12 March – following the Champions League defeat to Schalke 04, although they qualified on an aggregate score – while the Spanish press believe the chief also had a couple of messages for Jose Mourinho, after Chelsea were knocked out of the competition by Paris Saint-Germain.
Even though Mourinho ended his three-season spell at the Santiago Bernabeu on a sour note with a number of players, including captain Iker Casillas and Sergio Ramos, the Portuguese manager enjoyed a close relationship with the president.
Some reports in Spain have recently claimed Perez misses Mourinho's methods as he believes Ancelotti's lenient style is one of the main reasons behind Los Blancos' current crisis.
The Champions League holders suffered humiliating defeats against Athletic Bilbao and Schalke after a draw against Villarreal.
And even though Real Madrid managed to go through to the quarter-final of the Champions League, 5-3 on aggregate, the 3-4 loss at home against the Germans has prompted a huge debate in Spain.
Florentino was forced to call a press conference to play down the critics, while Spanish newspaper AS claimed he took a dig at Mourinho, pointing out that while the Portuguese failed to lead Chelsea to the quarter-final, Ancelotti got Real Madrid through.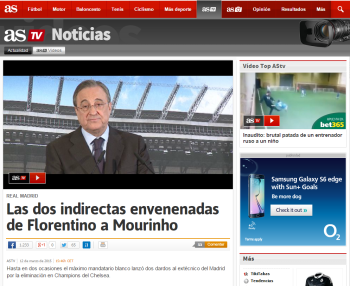 "We have got through to the quarter-final, which is not easy. As you know not everyone have gone to the quarter-finals..." he said.
"My first feeling [after the defeat against Schalke 04] was one of satisfaction at going through. It is very difficult. Other [teams], like we had the opportunity to see yesterday [on 11 March, when Chelsea lost to PSG], didn't get the qualification. For five or six years we were knocked out in the last 16 and now we're going to continue fighting for La Undecima."
Mourinho won a Copa del Rey and a La Liga title during three seasons in Madrid but failed to conquer the Champions League, being knocked out three times in the semi-finals of the competition, by Barcelona, Bayern Munich and Borussia Dortmund.