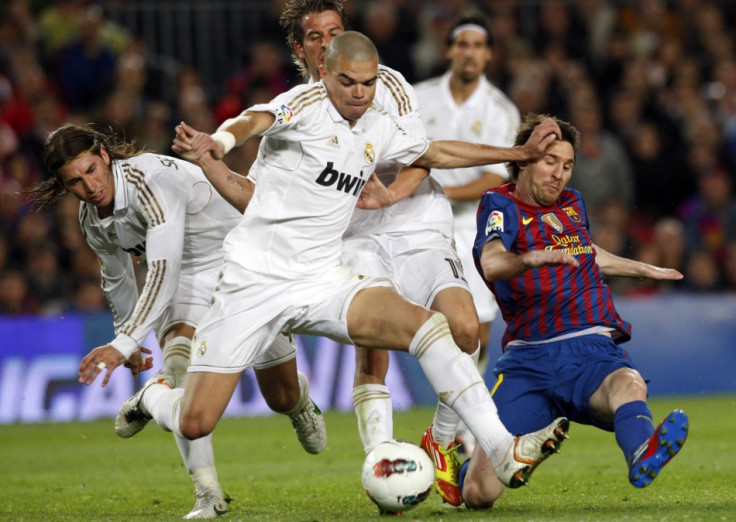 Real Madrid centre-back Pepe has claimed even though Carlo Ancelotti appears to be a lenient manager, his training sessions are much more intense than the ones the players used to endure when current Chelsea manager Jose Mourinho was in charge.
The Portuguese defender also claimed the Italian boss has brought stability to the club as during Mourinho's era many Spaniards hated Los Blancos.
During an interview with Radio station Cadena Cope, Pepe spoke about Real Madrid's current crisis – following consecutive defeats against Athletic Bilbao and Schalke – and defended his manager.
Some pundits and reporters have claimed club president Florentino Perez will sack Ancelotti at the end of the season because he has supposedly lost his power in the dressing room due to his quiet demeanour. But Pepe has said the Italian manager's methods are stronger than Mourinho's and hopes he will remain at the club.
He said: "I think our training sessions under Ancelotti are much more intensive than they were under Mourinho. For instance, we did very demanding exercises that we didn't do with Mourinho.
"We have to climb uphill and it's very hard. Every manager has his own methods but for me is much harder to do that than training with the ball for 20 minutes.
"Ancelotti is not too lenient with us. He has a very distinguished curriculum and he demands a lot from us. Ancelotti will continue, there's no doubt about that. He's a great coach and in a short space of time has brought us a lot of happiness.
"Whenever we play at another ground in Spain, we can sense people don't hate us like they used to when the other manager was with us. I am not criticising Mourinho but it is what I think. Today, Madrid is a very big club; we've cleaned up our image. Now Isco gets an ovation when he goes off - that would have been unthinkable before".
Pepe out of favour with Mourinho
Pepe went from one of the favourites of the current Chelsea manager during their time together in La Liga to be out of favour after publicly backing goalkeeper Iker Casillas when Mourinho decided to replace the Real Madrid legend with Diego Lopez.
Asked about the situation, he said: "Casillas is the best goalkeeper in the world right now. It's strange that someone like him gets whistled. Things were never clear when Mourinho was here; I paid the price for saying that he should be respected for what he has done for Spain. That was unfair.
"From one day to the next people forgot everything that Iker has won and everything he has given to football and that was quite painful for me to watch. When I came out and said that he deserves respect, it was taken as though I was his best friend and we were everyone else's enemies.
"People got that completely wrong; Iker tolerated his situation as best as he could – he knows what it means to wear the Madrid shirt more than anyone of us and is always defending this club. Iker and a few others should really clear up what really happened."